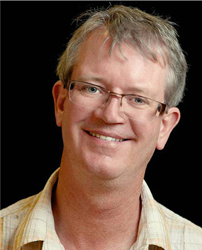 San Diego, Calif. (PRWEB) April 08, 2014
NewSchool of Architecture and Design(NSAD) instructor Joseph F. Kennedy is presenting a research paper on "Catalytic Approaches to Humanitarian Design" during the Association of Collegiate Schools of Architecture Annual Meeting April 10-12 in Miami Beach, Florida. The paper outlines recommendations on preparing a new generation of designers to address the complex needs of global communities.
Kennedy is co-founder of the organization Builders without Borders, an international network of ecological builders who advocate the use of local, affordable materials in construction. He specializes in sustainable building, ecological design, and community development, and he has taught all over the world. In his paper, Kennedy explains how designers and architects can be better prepared to meet the needs of global communities with specific challenges, such as communities displaced by war and environmental disasters and in areas with limited economic and materials resources. He provides a series of recommendations, such as:

Create model community projects around the world as "field stations" for education, research and community development.
Provide design students with an education that incorporates sustainable development approaches, cultural sensitivity, and world affairs
Place greater emphasis on interdisciplinary skills, such as visual communication and construction techniques, for future designers to work with and design for global communities
Kennedy will present his paper during the session on "Building Change: Public Interest Design as Catalyst," which takes place from 11:30 a.m. to 1 p.m. on Friday, April 11. The topic complements the year's ACSA Annual Meeting theme of "Globalizing Architecture: Flows and Disruptions."
In addition to research papers, Kennedy has co-edited The Art of Natural Building and edited Building without Borders. He holds a Master of Architecture degree from the Southern California Institute of Architecture and a master's degree in International Peace Studies through the Kroc Institute for International Peace Studies at the University of Notre Dame.
About NewSchool of Architecture and Design
Located in downtown San Diego, NewSchool of Architecture and Design (NSAD) prepares students for career success in design fields through an emphasis on interdisciplinary and global design skills, industry collaborations and real-world projects. The school's programs include architecture, construction management, product design and interior design. The school also offers programs in digital media arts, game art, game programming and animation. For the past two years, DesignIntelligence has ranked NSAD among the top 10 undergraduate architecture schools in the western United States in its publication "America's Best Architecture & Design Schools." The school's design environment provides inspiration for the school's students and faculty, recognized for their work regionally and internationally, and NSAD students are prepared to work in a global and diverse work environment through the school's collaborations with award-winning schools around the world such as Domus Academy in Milan, Italy and Media Design School in Auckland, New Zealand. NSAD is accredited by the Western Association of Schools and Colleges (WASC) Senior College and University Commission, and the Accrediting Council for Independent Colleges and Schools (ACICS). NSAD's Bachelor of Architecture, Master of Architecture and Executive Master of Architecture programs are accredited by the National Architectural Accrediting Board (NAAB). http://www.newschoolarch.edu/.