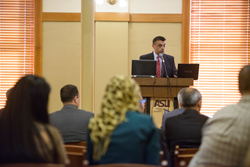 Tempe, Ariz. (PRWEB) April 09, 2014
While thousands of miles apart, Arizona and Palestine must respond to similar energy challenges when faced with transmission, funding and technology issues. From March 24-28, representatives from both regions spanned the geographic gap and met at Arizona State University in Tempe to learn from each other's struggles and successes. During this workshop, the Renewable Energy Leadership Training Program, attendees worked on a roadmap toward a sustainable and independent energy system.
This workshop is the second of two training programs that have stemmed from a partnership between ASU and An-Najah National University in the West Bank.
"We are a highly interconnected and networked world; we can't work in isolation on an issue that affects us all," said Sethuraman "Panch" Panchanathan, the senior vice president of the Office of Knowledge Enterprise Development. "Arizona State University faculty and students are dedicated to solving global problems and An-Najah National University shares this mission and vision. Because of these shared goals, I have utmost confidence that we will succeed in moving forward with this global workshop to develop renewable energy solutions around the world."
Participants in the workshop toured local facilities in the valley, including First Solar, the ASU Solar Power Lab, TÜV Rheinland and the Arizona Center for Algae Technology and Innovation on the ASU Polytechnic campus.
"The fact that there are so many similarities between Palestine and Arizona provided a certain incentive to move forward," said Maen Areikat, the Palestinian representative to the United States. "In the future I hope this will be a cornerstone, something we can build on to expand the cooperation between ASU, the United States and Palestine."
Following the Renewable Energy Leadership Training Program, the participants from Palestine will seek to implement renewable energy projects they have formed as a result of their training.
"We want to establish a strong renewable energy sector in Palestine and to do that we have to be prepared in all aspects," said Omar Kittaneh, chairman of Palestine Energy Agency. "Establishing such a thing in Palestine will save lives. There is no greater defense than saving lives. This is not only helping industry, education and all sectors, it is also enabling us to build a more peaceful state."
The benefit of the workshop was mutual, as ASU also was able to gain valuable insight into the program and Arizona's energy policies and practices. The university plans to expand the program globally in order to continue to support ongoing energy transformation in developing nations and within the U.S.
"Energy is a system, you can't just look at it as individual pieces," said Gary Dirks, director of ASU LightWorks and the Global Institute of Sustainability. "Everything from the technology, the way that technology is implemented and the policy framework is important and this requires high quality, well trained people. This partnership with An-Najah University represents the opportunity to cooperatively develop a training and education program that would be applicable broadly here in the United States, in Palestine and well beyond."
The Renewable Energy Leadership Training Program is possible thanks to Arizona State University and the Office of Ambassador Maen Areikat. The program received support from the Palestinian Energy Authority and ASU Global. Additional support was provided by LightWorks, an ASU initiative that unites resources and researchers across ASU to confront global energy challenges. To learn more about the Renewable Energy Leadership Training Program, visit najah.edu/ren-leaders/about.
###