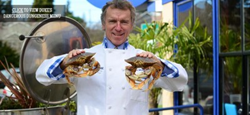 Moscrip says, 'our dungeness crab is locally sourced, plentiful, and sustainable. You just can't find a better tasting crab. The crabs are consistently flavorful and the processing is exceptional. All the crabs arrive on the dock alive and kicking.'
Seattle (PRWEB) April 24, 2014
From April 24 to June 10, Duke's Chowder House of Seattle will be featuring Dungeness Crab on their Fresh Sheet Menu. Hauled from the coastal waters of Washington, these iconic Northwest crabs are revered for their firm meat, outstanding flavor, and telltale fragrant aroma. According to Duke Moscrip, Founder and Owner of Duke's, says, "Our crabs are so 'deliriously tasty' that you won't be able to stop and you will be made temporarily delirious."
Duke, a self-proclaimed seafood sleuth, sources the crabs locally and is a stickler for only fresh. These meaty crabs are found up and down the West Coast and are carefully managed by the State of Washington—surprisingly only male crabs can be harvested and they must measure at least 6 ¼ inches across the back.
Duke and his Executive Chef, Bill Ranniger, visited the Westport fishing grounds and toured the crab processing facility at Pacific Seafood. Duke says, "Our crabs are locally sourced, plentiful, and sustainable. You just can't find a better tasting crab. The crabs are consistently flavorful and the processing is exceptional. All of the crabs arrive on the dock alive and kicking. They are kept cold and picked by hand daily. Crab doesn't freeze well so all of the crab we buy is fresh. I think it's a big deal." Customers just have three words they use to describe Duke's food: "It's so good!"
The Fresh Sheet Menu will feature a dozen dishes, including a Crab Club Sandwich, "Call Me Oscar" Salmon and Crab "Un" Cake Salad with frozen grapes. Other specials include the Crab "Un" Cake itself, featuring 84% crab and just enough filler to hold the crab together without compromising flavor and texture. The Northwest Coast Fresh Dungeness Crab and Wild Mexican Prawn Salad will include a not-so-secret dressing. The "It's Delightful, It's Delectable, It's Delirious" Dungeness Crab Bisque and the Crab Gnocchi are two comforting dishes for a cold day.
Duke is excited about the Dungeness Crab promotion, which is one of five specialty menus featured throughout the year. Duke says, "Dungeness crab is recognized as a delicacy in this part of the world. People know it. There's no question about that. The demand for this iconic Northwest Crab is huge."
About Duke's Chowder House
Dedicated to bringing its customers the best every day, Dukes Chowder House operates six restaurants throughout the Puget Sound region and boasts membership of 156,000 in its popular email club. Founder and Owner Duke Moscrip - together with his son and partner John Moscrip - continue their passionate journey to source all natural, healthy and fresh ingredients. Duke's food is free of hormones, antibiotics and free of harmful chemicals. Moscrip pioneered the concept of "ice chilled, better than fresh." Duke's is an upscale casual Pacific NW seafood concept offering signature, flavorful, 100% sustainable wild seafood, Award Winning Chowder and grass fed burgers in a gathering place that is friendly, comfortable, unpretentious and filled with personality. Guests sum up their favorable assessment of what Duke's Chowder House has to offer with three words: "It's so good!" Learn more and join the email club at Duke's Chowder House email club.
Contact:
Nancy Juetten
nancy(at)authenticvisibility(dot)com
425-641-5214