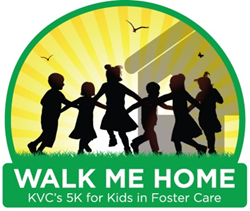 Lenexa, KS (PRWEB) April 10, 2014
KVC will be hosting its Third-Annual Walk Me Home 5K Run/Walk to support local children in foster care and families in the community.
The event will be May 10, 2014 at Sporting Park, home of the Major League Soccer Champion team Sporting Kansas City. Foster families and friends will gather to participate in this fun, family event and raise awareness about foster care in the local Kansas City community. Participants may register as an individual or as a team.
Walk Me Home serves to increase awareness of foster care, recruit foster families, and raise funds to support foster care programs and services in the community.
The money raised by participants and sponsors will go toward the funding of extra-curricular activities for children in foster care, and many other expenses foster families incur. Proceeds will also support innovative ideas to enhance the Foster Family Training Programs.
Join KVC for a fun-filled day by registering online at http://www.kvc.org! The race will start at 9:00 am rain or shine. A silent auction will take place during the event with items including a basketball signed by Coach Bill Self and the University of Kansas Men's Basketball team, tickets to the Kansas City T-Bones, jewelry from Stella & Dot, and so much more! If you are interested in being a sponsor, please contact Stacy Yowell.
About KVC Kansas
KVC Kansas, headquartered in Lenexa, is a nonprofit child welfare and behavioral healthcare organization that provides foster care, in-home therapy and other family-related services. KVC Kansas is accredited by The Joint Commission and serves more than 3,500 children in eight regions of the state. The organization is a subsidiary of KVC Health Systems which serves over 25,000 children in five states and Washington, D.C. Due to KVC's leadership in the use of evidence-based research to achieve better outcomes and advance child welfare, the Annie E. Casey Foundation recently endorsed KVC as a best-practice organization. Learn more at http://www.kvc.org.