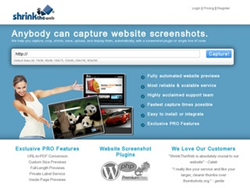 improve site navigation, page views, and encourage web visitors to remain longer
Atlanta, GA (PRWEB) April 15, 2014
The directory script named phpLinkDirectory – or phpLD for short – is used by more than 100,000 different websites, and webmasters across the globe rely on the web software product in order to organize and categorize their various directory websites in an easy and efficient manner, without needing advanced developer skills or in-depth knowledge of programming languages.
Now those same webmasters have a new automated tool in their arsenals to help make their content more engaging and relevant. By using the ShrinkTheWeb phpLD widget and a "smarty" plugin, web administrators can now take advantage of the computerized service from ShrinkTheWeb.com to automatically add screenshot images to their phpLD-powered sites.
For example, an admin who uses phpLD to run a niche affiliate-based directory site that lists links to the best blenders on the market today could benefit from integrating the ShrinkTheWeb service into their phpLinkDirectory. It would represent a powerful way to incorporate screenshot photos of hundreds, thousands or even millions of product pages to accompany the listings – and by utilizing more offered options, the photos can be made easily clickable to encourage increased referral sales and income.
Users wishing to take advantage of this program can first read the ShrinkTheWeb phpLD Widget + Smarty3 plugin instructions page for downloading, and also reference the same page to find the link to get started. Plus, upon doing so, they can learn about the variety of options the ShrinkTheWeb widget can provide after it is uploaded to phpLD and enabled. A plethora of widget settings will become available, along with a location to enter user credentials to verify the account.
Upon uploading the widget to the server in question, and after following the rest of the procedure, webmasters can then enjoy the visual appeal and flexibility of the ShrinkTheWeb widget's power, which results in screenshots being placed prominently above the main content as shown on this example website, AffiliateKey, that features the technology in action.
The value of presenting data in directories in this visually informative way lies in the fact that the human eye is drawn to photos much more often than plain text links, so adding an automatic means of generating useful screenshots may improve site navigation, page views, and encourage web visitors to remain longer while bounce rates drop significantly. The new plugin represents one more method of adding value to readers in a faster fashion than ever before.
About ShrinkTheWeb™
ShrinkTheWeb offers a service to fully automate the capture and delivery of web page screenshots. The company was founded in 2009 and has been a driving force in the emerging automated website screenshot marketplace.
ShrinkTheWeb has always held fast to the idea that website screenshots will eventually become a staple of the Internet. They will become a commonplace replacement or enhancement to simply showing a link. They are the natural evolution to linking and referencing on the web.
For more information, please visit http://learn.shrinktheweb.com.