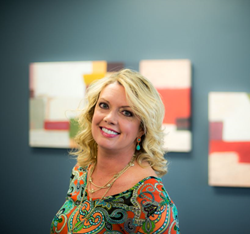 Karen brings an incredible reputation and skillset that will help us continue to grow and provide the best possible service and solution to our customers
Lehi, UT (PRWEB) April 10, 2014
Karen joins NetDocuments with more than fourteen years of business development and account management experience in the IT industry with nine of those years in legal. Karen's expertise in developing and strengthening relationships with clients will be utilized in her new role at NetDocuments as Senior Account Manager. Her energy and enthusiasm for understanding her clients' unique needs consistently results in well-designed, customized technology solutions and lasting relationships with satisfied customers. Karen's customer focus is evident in the attention devoted to understanding the specific goals of each project and delivering technology solutions specifically targeted to meet those goals.
"We're seeing an incredible acceleration and adoption in the market as firms move from on-premise, server based document management systems to our cloud-based platform. We're expanding in all areas to meet the demand, and we're extremely happy that Karen has joined our Senior Account Management team," Ken Duncan, CEO, stated. "Karen brings an incredible reputation and skillset that will help us continue to grow and provide the best possible service and solution to our customers."
Prior to joining NetDocuments, Karen worked for nine years at Traveling Coaches as a Senior Account Executive helping law firms achieve their technology goals. Prior to her time at Traveling Coaches, she worked at Educational Technology Services, where she was involved in training, consulting, and working with educational entities to accomplish their IT solutions.
Karen holds a Bachelor of Arts degree in Business Administration with a concentration in Marketing from the University of North Texas. She also attained her Secondary Teaching Certification in Business Composite at the University of North Texas.
About NetDocuments
Founded in 1999, NetDocuments web-based service has given firms of all sizes the ability to reduce costs and increase security, mobility, and disaster recovery to documents and emails from anywhere and on any device. With fully redundant datacenters in the US and UK, NetDocuments services some of the largest and most prestigious global law firms and financial services organizations. With anytime, anywhere access, firms are able to increase productivity and improve the client experience through a comprehensive cloud-based document management service. For more information about the company, go to http://www.netdocuments.com.