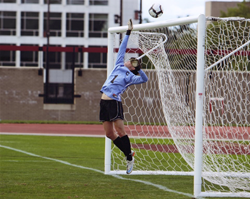 A well-balanced diet is imperative for player development, sports performance, injury prevention and general wellness.
Richardson, TX (PRWEB) April 09, 2014
Brent Coralli, CEO of Sting Soccer, announced today Sting Soccer has on staff a registered dietician. The announcement, part of the Brent Coralli – CEO of Sting Soccer – Brings On Registered and Licensed Dietician blog, talks about the importance of a well-balanced diet for Sting athletes and introduces Kelly Murphy, a registered and licensed dietician.
"In the youth game, awareness is lacking but hugely important given the taxing schedules and specific nutritional needs associated with growth and puberty," said Brent Coralli, CEO of Sting Soccer.
"A well-balanced diet is imperative for player development, sports performance, injury prevention and general wellness."
To satisfy this need, Coralli brought on Kelly Murphy, RD in January of this year. Murphy is a registered and licensed dietitian and attended Cornell University where she graduated cum laude with a degree in Nutritional Sciences. Following her undergraduate degree she moved to Texas to complete her Dietetic Internship at Baylor University Medical Center. Murphy worked in Baylor's hospital downtown primarily in the Solid Organ Transplant as well as the Telemetry and ICU departments.
In addition to her passion for nutrition and education, Murphy has a love of soccer and is a former NCAA Division One soccer player. She played four years at Cornell University earning three varsity letters, recognition as Ivy League Rookie of the Week and MVP. Her goal is to continue to educate and encourage individuals to live and maintain a healthy lifestyle and perform at their best on the soccer field.
"Kelly has been invaluable in coupling her own soccer playing experience with her vast knowledge of the nutritional field to ensure that the important messages are being heard by our membership," Coralli said. Kelly has the ability to present nutrition in a way that is meaningful and relevant to the young athlete. Our players have found the experiences with Kelly to be fun while leaving with several very important messages. Kelly also connects monthly with all of the clubs membership via our newsletter. She provides helpful tips that are specific to the needs of Sting soccer players."
"I'm truly excited to have the opportunity to work with Sting players, parents and coaches," Murphy said. "Soccer is a passion of mine; I love the game and grew up having my parents drive me all over the place to play in practices, games and tournaments so I completely understand the lifestyle. Nutrition is so crucial in health and sports, and I have first-hand experience with that and love to share my knowledge with others."
For more information on Murphy and Sting, please click here.