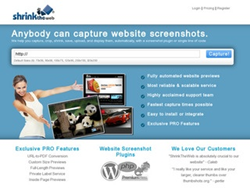 Atlanta, GA (PRWEB) April 24, 2014
A key component of the ShrinkTheWeb (http://www.shrinktheweb.com) automated website screenshot service is the capture generators that render new requests. ShrinkTheWeb now announces that it has significantly increased its infrastructure to keep up with growing demand. Many competitors in the web preview niche tend to fail, once they become popular, because they lack the infrastructure to keep new request capture delays to a minimum.
In 2013, ShrinkTheWeb beefed up its cloud storage and added over 150 new high speed website screenshot generators and rebuilt the billing system to boot. "This was not a light undertaking" says Creator and CEO Brandon Elliott. "These upgrades were years in the making. I spent countless hours researching facilities and services that could more efficiently handle the type of usage we experience without breaking the bank."
It is always exciting to see a startup entity continue to grow despite the common pitfalls that accompany launching a data intensive SaaS (Software as a Service) solution. ShrinkTheWeb has risen to this challenge over the years by continually raising the bar of expectations. Since initially launching its service 2008, they developed custom security features to protect their customers accounts and reduce wasted resources. In addition they fine tuned their proprietary request code to reduce latency, and rebuilt their generators from the ground up; more than once.
When it comes to SaaS (Software as a Service) solutions, speed, reliability, and quality is everything and with it's continued strides, ShrinkTheWeb has proven that these requirements are a top priority. It is not uncommon for small services, like ShrinkTheWeb, that do not have large sources of outside funding to fold under the pressure of increased usage and popularity. It is the type of forward thinking that seems to be evident in the way ShrinkTheWeb operates, that separate the fly-by-night providers from their lasting counterparts.
It might be debatable who the best automated screenshot provider is but there is no question that ShrinkTheWeb is among the best as it is consistently trusted by many thousands of users of all types and sizes. The folks over at ShrinkTheWeb like to keep some things pretty close to the vest but they were willing to share that, as of late 2012, they are running a profitable operation and continue to do so even after the significant changes they underwent. Building a business is not very different from building a city, you must have an infrastructure that can support growth. At the minimum it would seem that ShrinkTheWeb gets this sentiment and has their priorities in the right place.
About ShrinkTheWeb™
ShrinkTheWeb offers a service to fully automate the capture and delivery of web page
screenshots. The company was founded in 2009 and has been a driving force in the emerging automated website screenshot marketplace. ShrinkTheWeb has always held fast to the idea that website screenshots will eventually become a staple of the Internet. They will become a commonplace replacement or enhancement to simply showing a link. They are the natural evolution to linking and referencing on the web.
For more information, please visit http://learn.shrinktheweb.com.