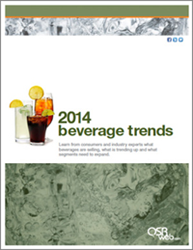 Consumers said they want more coffee, tea and alcohol options from restaurants.
Louisville, KY (PRWEB) April 10, 2014
Beverage sales account for the one of the largest sources of profits for restaurant operators. That being the case, recent news no doubt has them terrified. A new report by Beverage Digest says American soda consumption in 2013 was its lowest level in two decades, down 3 percent from 2012 and marking the ninth straight year of decline.
Why? Experts cite persistent health concerns about the drinks as well as increasing consumer demand for different kinds of beverages.
In that context, the foodservice editors of B2B publisher Networld Media Group have published the "2014 Beverage Trends" report — the group's first to focus specifically on drinks. They examine what trends operators are seeing in their restaurants and what they predict for the future for this critical menu component. In addition to the nearly 500 operators who took the survey, they polled 1,100 consumers to learn what they want, and how and where they want it.
Overall, consumers said they want more coffee, tea and alcohol options from restaurants. For the youngest demographic — the Millennials — tea is as significant a driver as coffee. Consumers across the board said they want more tea options represented on menus, including sweet, flavored and iced.
Coffee remains a staple, however, and is especially important for consumers ages 35 and up. Additionally, consumers are warming up to frozen and iced coffee offerings. Lattes, cappuccinos and other espresso-based options are also gaining popularity, especially among the younger demographics.
Operators say they are more bullish about smoothie sales, and consumers are seeking out more craft beer options. Smoothies have the "perceived healthy" halo and have also benefited as a meal replacement choice for those on the go. Craft beer has a social advantage, and tends to attract Millennials, especially males of the group.
Although soda remains the most popular beverage listing by far, making up more than half of all beverage sales, operators expect soda to pull in closer to 39 percent of sales two years from now. Optimism is low for a rebound.
The report also includes several commentaries from industry professionals.

"The Social Media Outlook for Beverage Programs Looks Half-Full," by Jess Knight, marketing manager, newBrandAnalytics;
"Innovation is Key to Beverage Profitability," by Rolie Zagnoli, managing director, Zagnoli Trading Company;
"How to be on Trend with Healthy Beverage Offerings," by Mindy Armstrong, director of insights and innovation, FoodIQ;
"How the Millennial Generation is Shaping Beverage Trends," by Rebecca Gelston, director of beverage programs, Mont Blanc Gourmet.
More information about the report is available here.
About Networld Media Group
Networld Media is an online publisher of B2B news and information across multiple industries. Its websites reach more than a quarter of a million unique visitors each month with headlines, features, analysis and multi-media content for financial services providers, foodservice operators, retailers and more. Headquartered in Louisville, Ky., the company also sponsors industry events, offers custom publishing services and conducts premium research.