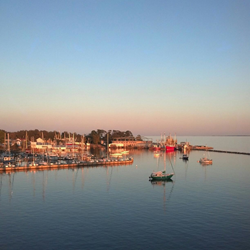 Nicknamed Sailing Capital of North Carolina
New Bern, North Carolina (PRWEB) April 09, 2014
What could get better than being a captain in one of the best boating areas in the nation? Well, folks living in a certain coastal North Carolina boating community can give you a hint! Master-planned communities near the Outer Banks like River Dunes are gearing up for an annual event that is sure to grab the attention of Baby Boomers who have always dreamed to be captains of their very own boats and have them docked behind their home. The upcoming 2014 Oriental In-Water Boat Show is making dreams come true for anyone who has envisioned themselves sailing the seas in style! The location is perfect because Oriental North Carolina is nicknamed the 'Sailing Capital of North Carolina' where sailboats outnumber residents three to one.
From April 11-13th, residents living close to the deepwater marina on the Inner Banks will be attending the 2014 Oriental In-Water Boat Show in Oriental, North Carolina. The annual event was introduced in 2009, and in the past, these shows featured boats from places like: Fort Lauderdale, Florida, Bryson City, North Carolina and Hampton, Virginia. The Oriental In Water Boat Show will present boat exhibits from all different destinations and also show how they move during in-water sea trials. This event gives residents of the coastal North Carolina boating community a sneak peak of their nautical dream and brings it to life!
While residents of River Dunes and visitors can view the luxury boat exhibits, they can also check out nautical products and services at the Nautical Flea Market. The Nautical Flea Market will feature the latest and greatest brands, brokers, dealers and services for every aspiring Captain's needs. Check out some of the vendors & sponsors that are expected to return for 2014's event:
Beaufort Marine Center, Beaufort
Bennett Brothers Yachts, Wilmington
Cape Fear Sportswear, Wilmington
Coastal Angler Magazine, Wilmington
Details 'R' Us, Beaufort
Garland Fulcher Seafood Company, Oriental
Residents of the master-planned communities near the Outer Banks can a expect a big crowd in 2014. Last year, a total of 85 exhibitors took over and the deepwater marina on the Inner Banks was roaring with excitement. This year is going to be a boating dream during the Oriental In-Water Boat Show, but some boating dreams have already come true for River Dunes residents like The Fitzpatricks.
Recently, residents of the boating community of River Dunes, The Fitzpatricks sailed from Palm Beach, Florida to their boat's permanent home in Grace Harbor Marina at River Dunes. The couple spent a few days in Florida to make sure their new purchase was in "shipshape" then enjoyed the views as they sailed north. The coastal North Carolina boating community were waiting to rejoice when they arrived! Community support happens often at River Dunes, an award winning master-planned community near the Outer Banks. Amenities at River Dunes include:
11,500 Square Foot Clubhouse overlooking the marina with dining
Grace Harbor Marina and Private 1,100 Foot Boating Access Channel
124 Deepwater Boat Slips with utilities
Outdoor Swimming Pool overlooking the marina
Fireside Hot Tub and Cozy Cabanas
Fitness Center with Steam Showers
Tennis Courts under construction
The Lake House for social events
238 Acre Nature Preserve
Guest Cottages
Riverside Chapel
Take a peek at River Dunes homes.
From June 6-8, 2014, residents and River Dunes property owners and the communities around the deepwater marina on the Inner Banks will unite again for an important and worthy cause. The 2014 Leukemia Cup Regatta is a special charity event, and local boat owners will help raise funds to support patient and research services. The River Dunes community is the host of the event and is very active in helping the local community through the Leukemia Cup Regatta and other events.
While the rest of the world is wishing for a dream boat, this coastal North Carolina boating community is busy living the dream in the Sailing Capital of North Carolina.
To learn more about River Dunes and schedule a tour, call River Dunes directly at 800.975.9565.
About Real Estate Scorecard:
Real Estate Scorecard writes unbiased real estate reviews providing in-depth information about popular gated communities in Florida, Georgia, North Carolina, South Carolina and Tennessee, all in an effort to help people discover where to retire in the Southeast.
Website: http://realestatescorecard.com