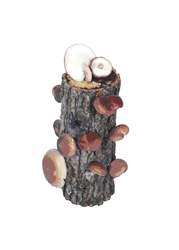 Shiitakes are tasty and healthy, as we know. They can also elevate our emotional state. Just having a log in the living room adds an enlivening energy to the space.
Perkins, OK (PRWEB) April 09, 2014
"March through May is the natural fruiting season for shiitakes and other mushrooms," according to The Mushroom Lady, Sandra Williams of Lost Creek Mushroom Farm, where warmer temperatures and spring rains bring out shiitakes by the thousands. "It's also the time of year when our bodies naturally crave foods that strengthen us and help dissolve winter sluggishness.
"Thinking about when we were hunters and gatherers, I imagine living off the land in spring when many types of mushrooms are growing on the ground and on dead trees and branches. Wild animals are birthing their young, so protein is limited; and mushrooms, especially shiitakes, are high in protein. Our immune systems are suppressed by starvation and cold; and many mushrooms, especially shiitakes, strengthen and stimulate the immune system. Mushrooms can revitalize and detoxify my blood and organs and strengthen muscles, nerves, and bones. Fruits and berries aren't yet available in this imagined end of winter, and mushrooms can provide essential sugars, enzymes, vitamins and minerals."
The Mushroom Lady should know. She and her husband Doug have been studying the nutritional and medicinal properties of mushrooms for 25 years. They have watched mushroom and mushroom log sales peak every spring -- and again in the fall when the body needs to clear and strengthen itself for the coming winter. "Our bodies and psyches are more aligned with the natural cycles than we realize," she said.
Shiitakes grow wild in Asia, popping out of fallen hardwood trees and branches with spring rains and temperatures of 70° F/51°C during the day and 50°/40°C at night. "Research and technology have provided a method for us to cultivate organic shiitakes on logs in a way that imitates the natural process," Williams explained, "making it easy to grow shiitakes at home."
In the winter when the sap is down, Sandra, Doug, and their family of friends and seasonal workers cut hardwood logs such as oak, hickory, and sweet gum for growing mushrooms. They drill holes in the logs with high-speed drills and inject shiitake spawn, the mushroom seed material, then they seal the holes with hot wax. The logs go outside under shade for 8-10 months so the shiitake mycelia can grow inside them. Watch the inoculation, or seeding, process and see the farm here
When logs are ready to produce mushrooms, or "fruit," Doug moves them into a greenhouse and hand-picks every log shipped to customers.
Log owners "shock" their logs by soaking them in non-chlorinated ice water. That triggers the fruiting cycle – just as in Nature the temperature changes and spring rains urge the mushrooms through the bark.
Harvest follows in 6-10 days. Logs can be fruited every two months for years. They need regular soaking in non-chlorinated water and can live indoors like plants.
Placing them outside under shade in the spring and fall produces more and larger mushrooms.
"Of course you get more and better shiitakes in the spring," Sandra said, smiling, "It's their natural season -- just the way they like it."
Lost Creek Mushroom Farm has been making a variety of shiitake mushroom log kits since 1992. "As far as I know, we're the only company that unconditionally guarantees its logs kits. We have excellent customer service and support. We've been in business for over 20 years and won multiple Amazon.com Top Seller Awards."
Lost Creek Mushroom Farm shiitake log kits include: The Original Tray Kit with a 14-inch log and its own tray for soaking, fruiting and storing the log, priced at $50, and two for $90 shipped to the same address. The best-selling 10-inch Single Log Kit sells for $30; the Ma and Pa Log Kit with two 10-inch logs for harvesting shiitakes every month for $50, and a 6-inch 'Shroomie at $18. Kits contain one or more logs, ready to grow mushrooms, instructions and recipes. Prices include shipping and handling. Prices are slightly higher at Amazon.com.
Order online at http://www.shiitakemushroomlog.com or by phone at 1-800-792-0053. A portion of sales supports the Williams' Mushrooms in Ghana Project and mushroom education and production in other areas of the world.