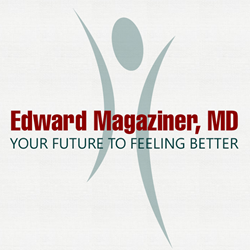 (PRWEB) April 09, 2014
Edward Magaziner, M.D. at the Center for Spine, Sports, Pain Management and Orthopedic Regenerative Medicine is a New Jersey PRP doctor that provides patient-centered services to those who suffer from acute or chronic pain due to orthopedic, musculoskeletal, spine, nerve, and pain injuries. Edward Magaziner, M.D. features a multitude of clinical treatments that repair, regenerate and eliminate debilitating pain and its many underlying causes.
Clinic director – at the Center for Spine, Sports, Pain Management and Orthopedic Regenerative Medicine – Edward Magaziner, M.D. is widely-acclaimed around the country as a pioneer in this field and for his integral role in leading regenerative medicine into the future. Specializing in regenerative medical services such as prolotherapy, platelet-rich plasma injections and stem cell bone marrow, adipose derived stem cell, and bio cellular grafts, Dr. Magaziner is board certified, a University professor and considered by many as one of the top treating pain management physicians in the tri-state area. He is past CEO of the New Jersey Interventional Pain Society NJSIPP and past president of the NJ Physical Medicine and Rehabilitation Society.
Situated in North Brunswick, New Jersey, this platelet-rich plasma and stem cell location features custom-tailored treatments for all pain management patients. Edward Magaziner, M.D.'s exclusive pain management solutions include advanced spinal and joint injections, biologic spinal disc injections, Botox injections, epidural injections, mesotherapy, radio frequency and chemical neurolysis, trigger point treatment, muscle, ligament and tendon injections, joint and nerve injections, therapeutic laser, spinal cord stimulation and endoscopic minimally invasive spine surgery, ultrasound guided minimally invasive surgery such as for carpal tunnel syndrome, trigger finger, nerve entrapments, calcium deposits, cysts etc. Additionally, this North Brunswick PRP location provides diagnostic testing such as image guided diagnostic blocks, discograms, dynamic real-time ultrasound, dynamic x-ray, fluoroscopy, gait analysis, orthotic fitting, and electro diagnostic testing.
Situated in the lovely area of North Brunswick, New Jersey, the Center for Spine, Sports, Pain Management and Orthopedic Regenerative Medicine sits in an area right smack in the middle of the Garden State accessible from New York, New Jersey, Pennsylvania locations and convenient to highways, airports, and train stations loaded with fine hotels, entertainment, and restaurants nearby. He has patients who travel from 6 surrounding States to visit his office include professional and college athletes, entertainment celebrities, and weekend warriors. He has been featured on local and national television, radio, and internet media programs.
Dr Edward Magaziner' goal is to repair, regenerate, and stabilize joints, muscles, nerves, tendons, ligaments and eliminate the pain associated with these disorders in a comprehensive and caring manner.These 21st century treatments can be effective when cortisone, and the older standard treatments fail and frequently these regenerative treatments can help avoid surgery.