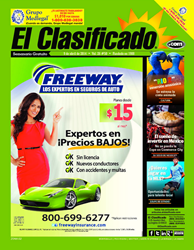 These awards are a great motivation for El Clasificado and help further our commitment in creating a marketplace where the Hispanic community can connect with sellers of needed products and services
Los Angeles, CA (PRWEB) April 08, 2014
El Clasificado continues to be honored with awards. For the seventh consecutive year, the most widely circulated Spanish weekly classifieds magazine in the United States has received seven awards from the Association of Free Community Papers (AFCP) during the organization's annual convention in Orlando, Florida, from April 3 to 5.
Distributed throughout Southern and Central California as well as Yuma, AZ, the awards recognized El Clasificado's General Excellence in print distribution with 0 to 9 percent editorial content with over 510,000 copies circulated weekly to over 1.5 million readers, as well as a first place award for Best Online Presentation of Classifieds for its website elclasificado.com.
The company, which is based in Norwalk, CA, also took home the Best of Show award, a special recognition for publications who have received the most awards, which reflects the growing presence of El Clasificado in California.
"These awards are a great motivation for El Clasificado and help further our commitment in creating a marketplace where the Hispanic community can connect with sellers of needed products and services," said Martha de la Torre, co-founder and CEO of El Clasificado. "We are very happy that our growth in digital media has been recognized for achieving these results with elclasificado.com which has 250,000 ads daily and over 18 million page views monthly. We're also extremely proud that even in this internet-focused era that we've been able to maintain our print circulation and in certain areas grow to reach the needs of the US Hispanic population."
El Clasificado also placed first in the Best Graphic Display of Classifieds category, an award that the judges bestowed upon the company due to the fact that "the categories are easy to distinguish and the different types of ads flow well and are easy to read" and was awarded Best Sales Presentation for the eighth time and Best Community Service Graphics for the third time.
About El Clasificado
El Clasificado, an EC Hispanic Media company, is a multi-media publication and advertising solutions company with advertising platforms in print, online, and grassroots events. More than 1.5 million readers utilize the free Spanish language publication every week. El Clasificado, a verified publication with a weekly circulation of 510,000, is distributed in over 300 cities throughout Southern California, the Central Valley, and now Yuma, Arizona. EC Hispanic media also owns the monthly publication El Punto and special supplement Quinceanera.com and the websites, elclasificado.com, pacoslist.com, susociodenegocios.com, alborde.com y quinceanera.com.
Contact:
Alicia García de Angela, Director of Communications and Events, agarcia(at)elclasificado(dot)com, 1-800-450-5852.