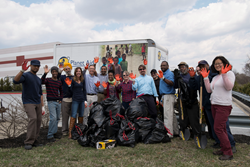 (PRWEB) April 15, 2014
Planet Aid will be celebrating Earth Day 2014 at its facilities across the country.
Nationally, there are over 300 students signed up for the Planet Aid Earth Day Art Contest. Winners will be announced on Earth Day, and finalists' submissions will be displayed on our website and Facebook page.
Here are some other Planet Aid Earth Day activities scheduled for April and May:

Planet Aid's Maryland office picked up 42 bags worth of trash around their office park for Howard County's 20 Minute Cleanup on April 9. The total amount of litter removed from the area weighed around 300 pounds.
Planet Aid's Massachusetts office will be hosting Planet EARTH Day on April 26, a day-long celebration featuring face painting, a bouncy house, a clothes recycling contest and more. The event runs from 10 a.m. to 2 p.m. at 47 Sumner Street in Milford, rain or shine. The Milford office will also be exhibiting at the PTO Today Expo 2014 on April 16 and the 21st Annual Maine Recycling & Solid Waste Conference on April 29.
Planet Aid's North Carolina office promoted clothes recycling at two Earth Month events: Earth Fair at North Carolina State University on April 9 and WUCycle at Winthrop University on April 11. Later on in the month, they will set up a yellow bin for clothing donations at the Keep Durham Beautiful Earth Festival on April 27. There will also be a clothing donation competition in the Raleigh area, with the person who collects the most clothes and shoes by weight receiving a $25 Visa gift card. Those interested in participating should label donations bags with their name, address and phone number and drop them off in the yellow bins at either Alexander Family YMCA or J&J Auto in Raleigh.
Planet Aid 's Philadelphia office will be holding a clothing donation contest at the 33rd annual 5k Run for Clean Air on April 19. For every full bag of clothes donated, Planet Aid will give out a raffle ticket for a prize draw at the end of the event. Prizes include an iPod Nano, two sets of Phillies tickets and gift cards to local restaurants.
Planet Aid's California office had a blast at the Star Eco's 14th Annual Children's Earth Day on April 6 in Culver City, California. This outdoor event featured eco-friendly games, green shopping, celebrity guests, food trucks and more.
Planet Aid's New Hampshire office will have a booth at the Greater Salem NH Earth Day Festival on May 10 from 10 a.m. to 3 p.m. at the Salem, New Hampshire Boys & Girls Club. They will also be participating in two roadside cleanups.
To get more details on all the past and future Earth Month events that Planet Aid attends, visit our website.
Planet Aid is a nonprofit organization whose mission is to inform, mobilize and inspire individuals and communities to work together to bring about worldwide environmental and social progress. It is incorporated under the laws of Massachusetts and recognized as a tax-exempt charity under IRS code 501(c)(3).