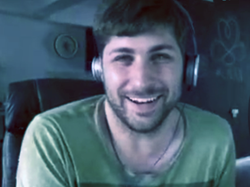 The bootcamp lets me integrate working on my current projects while continuing to learn. I've already recommended it to a couple friends who want to take iOS more seriously.
Chicago, IL (PRWEB) April 09, 2014
Mobile Makers Academy is expanding its classroom—virtually. The coding school announced the official launch of its online iOS bootcamp for prospective app developers.
Starting May 2014, applicants can apply to take classes online or in person at Mobile Makers' Chicago headquarters. The online classes give beginners the option to learn how to code from home or anywhere in the world, receiving the same core curriculum as its on-site students. Virtual students participate in a live video stream to review the previous day's projects, tackle different coding challenges, and follow along with expert instructors as they review code. Mobile Makers also offers participants the option to watch the morning's video later in the day, making it more accessible to developers in other time zones.
What makes the program unique is that students receive ongoing feedback, one-on-one support from instructors and access to Mobile Makers' private network, where they can ask questions during live class sessions.
In March 2014, Mobile Makers piloted its first online iOS class to meet demand from students who wanted to be iOS developers but were unable to relocate to Chicago for the 8-week course. After receiving rave reviews from students about the pilot, the academy decided to formally include the online format into its roster of available courses.
CEO Brandon Passley explained his decision to offer the highly regarded bootcamp online. "Since starting our on-site program in 2012, we've spent thousands of hours talking with and listening to our students, sitting around a computer observing how they solve problems, and finding out how best to teach complex topics like Objective C and Xcode. Now we're ready to translate that to the online space, where we can help people all over the world learn a valuable skill in this growing field. It's the closest they're going to get to our renowned on-site bootcamp, with a clear track to go from little or no experience to being able to build iOS apps."
In addition to its online course, Mobile Makers celebrated the graduation of its January 2014 cohort and the release of six free apps for iPhones and iPads. In each cohort, student groups create a mobile app and submit it to Apple's App Store, a capstone project for every Mobile Maker. These original apps represent the technological achievements of new developers, many of whom had no prior coding experience.
Some of the recent apps include:

MobileMath – an arithmetic app for children that allows them to practice simple math problems and earn virtual stickers that can be traded with their friends.
SocialRank – a social ranking app that lets you reward your friends for the positive things they have done
Objective Seafood – a fun, physics-based game that combines the Tower Defense and Angry Bird physics genres.
"It's exciting to watch the transformation of our students in such a short time," said Passley. "If they bring passion and the commitment to work hard, there's no limit to what they can do."
For a complete list of Mobile Makers' recent student apps, visit:
http://www.mobilemakers.co/blog/2014/3/4/an-olympic-achievement.
For more information about the online program, visit:
http://www.mobilemakers.co/online-ios-bootcamp/.
About Mobile Makers Academy
Mobile Makers Academy is an 8-week, full-time iOS bootcamp that prepares people to be mobile developers, teaching them how to make iPhone and iPad apps. The program simulates a professional application-development environment with independent and team-based coding, guided by expert developers. Unlike other iOS courses, Mobile Makers offers personal instruction, practice technical interviews, a private job board and resources for alumni to continue enhancing their skills and portfolio. The academy, headquartered in Chicago, attracts applicants from across the U.S. as well as from Mexico, Canada, India, the United Kingdom, Venezuela and New Zealand. For more information, visit http://www.mobilemakers.co.