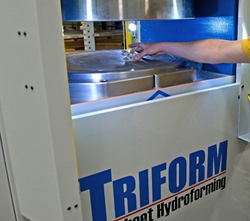 'The addition of the 24-5BD definitely makes forming those parts much easier,' said Joseph Dust of Steelville Manufacturing.
St. Louis, MO (PRWEB) April 08, 2014
Beckwood Press Company, a leading manufacturer of custom hydraulic presses & automation systems, and the Triform line of sheet hydroforming presses, has built and delivered a new sheet hydroforming press to aerospace industry parts supplier, Steelville Manufacturing Co. The bladder-forming press provides Steelville dramatically increased forming capability, and features a 24" forming area and 5,000 PSI of forming pressure.
Located in Steelville, Missouri, USA, Steelville Manufacturing Co. is a contract machine shop specializing in milling, turning, waterjet cutting and metal forming which has been in business since 1959. Primarily focused on the aerospace industry, Steelville Manufacturing Co. is a supplier to Boeing, Lockheed Martin and Sikorsky, among other aerospace OEM's. Steelville approached Beckwood Press Company to help improve their internal forming capability and efficiency via the addition of Triform Sheet Hydroforming equipment, which is manufactured in St. Louis, MO USA.
Beckwood recently delivered a Triform Sheet Hydroforming model 24-5BD which features a 24" diameter forming area and a maximum forming pressure capability of 5,000 PSI, which is applied to every square inch of the part's surface. This significant and evenly-distributed pressure results in net shape part production with greatly reduced, or all-together eliminated, manual hand-work. The compact press design also requires minimal floor space within Steelville's aerospace parts forming shop and low maintenance requirements, including a bladder change process requiring less than 45 minutes to complete.
Prior to receipt of their new Triform press, Steelville was press brake forming their parts, in addition to forming parts using both solid rubber blocks and traditional matched die sets. Alternatively, the flexible diaphragm of the Triform automatically takes the shape of any form block used and acts as a 'universal' die half, thereby eliminating the need for expensive and hard-to-manufacture mating dies. This 'cheap tooling' can be made from traditional materials like machined steel and aluminum, but also with alternative materials such as poured epoxies, 3D-printed materials and even wood.
Delivered in March, 2014, the Triform 24-5BD is already having a positive impact on Steelville's manufacturing operations.
"We had been forming parts for years which we now know were tailor-made for the Triform," said Joseph Dust, Steelville Manufacturing Co.'s engineer in charge of the Triform's integration. "The addition of the 24-5BD definitely makes forming those parts much easier," continued Dust. "With the Triform, the overall time required to make our form tools has been cut in half. Within the first two weeks of having the press on our floor, we'd already moved over 10 parts which are now being formed using the Triform process," he added.
See more information on Steelville Manufacturing Co.'s 24-5BD Triform Sheet Hydroforming Press here: http://www.beckwoodpress.com/stories/steelville.
The Beckwood Press Company is a leading hydraulic press and automated systems supplier, located in St. Louis, MO. They offer quality, custom hydraulic presses for virtually every industry & application. New heated platen technology, on-board PM features and integrated barcode scanning capability will help you work smarter & more efficiently. Beckwood also produces the Triform line of Sheet Hydroforming Presses. Get the latest news from Beckwood Press Company at http://www.beckwoodpress.com/news.