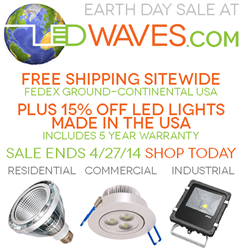 Brooklyn, New York (PRWEB) April 14, 2014
Lighting supplier and manufacturer LED Waves is launching a sitewide sale at LEDWaves.com in honor of the upcoming Earth Day. Now through Sunday, April 27th 2014; all orders within the continental United States are eligible for free FedEx Ground shipping. Additionally, all regular prices on the company's exclusive LED lights made in the USA are reduced by 15%.
For over a decade, LED Waves has helped businesses and homeowners go green by replacing their traditional lighting with energy-efficient, long-lasting solid state lighting solutions. By launching their sale over a week in advance, the company hopes to maximize the quantity of new LED lights in their customers' hands by the time Earth Day is observed (Tuesday, April 22nd).
The select Earth Day sale items represent the greenest, most cost-effective options available at LEDWaves.com as they are assembled, tested, and shipped out from the company's office and warehouse facility in Brooklyn, New York. In-house production eliminates much of the freight shipping typically associated with offshore middlemen, reducing the carbon footprint of the final product. It also provides a higher level of quality control, helping to ensure that each LED light reaches its promised 50,000 hour operating life without replacement. Each LED Waves exclusive product comes with a 5 year warranty.
LED Waves' specialty lies in indoor and outdoor LED floods. Their American-made line of residential and commercial products includes 12v to 120v LED spot light bulbs, recessed downlight fixtures, and a range of LED wall packs. The company also manufactures a powerful LED high bay and a four-foot fluorescent T8 replacement for their larger commercial and industrial customers. These select items – distinguished across LEDWaves.com with an American flag – are all 15% off with coupon code EARTH.
As a small business, LED Waves is flexible with custom cuts and light options for their entire product line. Call 1(800)986-0169 for special orders. Orders placed by phone are eligible for the above Earth Day discounts for the duration of the sale.