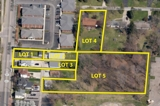 Outside of Les Wexner, the Jooss property is the last footprint of this size in the downtown area owned by a private individual
Columbus, Ohio (PRWEB) April 09, 2014
Buyers have the opportunity of a lifetime to bid their price on a variety of properties in exclusive New Albany, Ohio, a suburb of Columbus. Gryphon Auction Group, with Borror Properties, will offer 5 parcels for competitive bidding during an online-only auction taking place now through Wednesday, April 30 at 10:30am.
The event will offer five parcels in the heart of downtown New Albany, Ohio, a suburb of Columbus, owned by long time residents Carl and Sandra Jooss. The assets include three single family homes, outbuildings and a roughly 1.66-acre undeveloped lot – all contiguous. All properties are vacant and available for immediate use or redevelopment. The auction lots will be offered individually and in various combinations to bring about the highest price possible.
"The lots put together total a little over 2.6 acres. Outside of Les Wexner, the Jooss property is the last footprint of this size in the downtown area owned by a private individual," said Richard Kruse, president of Gryphon Auction Group. "When it is sold, we will see the end of an era in New Albany real estate."
The online auction as it is known today began taking shape in the mid 1990's with eBay. Online auctions have increased dramatically over the past 19 years and now literally thousands of sites offer the ability to purchase consumer goods, commercial equipment and real estate online. In a February 2014 National Auctioneers Association Internet Only Auction Summit it was suggested that online auctions could account for 40% of all real estate sold through the auction method within the next 10 years.
"We believe the Internet-only auction is a great way to bring property to the public," stated Kruse. "Online auctions expand the marketplace to allow bidders anywhere in the world an ability to participate 24 hours a day, 7 days a week and from any location."
Property details, photos, and terms and conditions can be found at GryphonUSA.com. Rich Kruse can be contacted at 614-885-0020 ext. 17 or by email at rfk(at)gryphonusa(dot)com for additional information about the offering.
About Gryphon USA, Ltd.
Gryphon USA, Ltd. is a multi-faceted asset management and liquidation firm focusing on the operations and dissolution of single assets through and including entire companies. Gryphon maintains a receivership and asset management group commercial auction practice art, antique and pottery auction group and real property management group. Traditional real estate transactions are managed through Borror Properties Real Estate.
Melissa M. Kruse oversees the day-to-day operations of the parent company, Gryphon USA, Ltd. while Gryphon Asset Management and Gryphon Auction Group operations are managed by Richard F. Kruse.