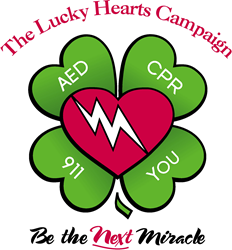 "On behalf of Mount Carmel, I would like to thank Medic for helping us obtain our AED through the Lucky Hearts Campaign," said Wendy Sims of the church's health ministry. "We are now trained to respond to a cardiac emergency within our congregation."
Charlotte, NC (PRWEB) April 09, 2014
Mecklenburg EMS Agency, through its Lucky Hearts Campaign, has donated its 115th life-saving AED (Automated External Defibrillator) to Mount Carmel Baptist Church.
The AED at Mount Carmel Baptist Church is one of twenty AED's donated by North Carolina State Representative Becky Carney. In 2009, Carney was saved from cardiac arrest with bystander-performed CPR and the AED donated to the State House Floor by her freshman class. Carney's second chance opportunity has motivated her to pay it forward and join the Lucky Hearts Campaign.
Public use AEDs has helped to increase a person's chances of survival from cardiac arrest. The faster an AED is applied to a person suffering from cardiac arrest, the better their chances are for survival and recovery. Since the campaign's inception in 2009, the Lucky Hearts Campaign has trained more than 2,000 people across Mecklenburg County in both CPR and Automated External Defibrillator (AED) awareness.
To learn more about the Lucky Hearts Campaign and/or to sign up for Medic's Community CPR classes, visit http://www.medic911.com.
About Mecklenburg EMS Agency (Medic)
Medic has served as Mecklenburg County's EMS agency since 1978. Medic is a joint government agency ran by the county of Mecklenburg, Novant Health System and Carolina Healthcare System. Medic is the busiest Emergency Medical Services agency in the State of North Carolina, with close to 500 employees and a fleet of 80 ambulances, mass casualty vehicles, and emergency response assets. Medic responds to more than 120,000 calls into the organization's 9-1-1 emergency response dispatch center each year.
Web: Medic911.com
Twitter: @MecklenburgEMS
###