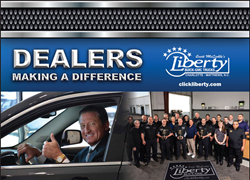 I know the other dealerships feel the way I do, and that is that together we can make a real difference in the community. - Scott McCorkle, Liberty Buick GMC
(PRWEB) April 10, 2014
Liberty Buick GMC of Charlotte has been a staple in the community for over 20 years, but not just for selling cars. They're not only known for their customer service, well-stocked inventory and long standing relationships with their customers. Liberty Buick GMC is known as a business in the community with a heart. And that's why they're participating in the Charlotte Observer's Dealers Making a Difference Program" highlighting the organizations in the community that are beneficiaries of auto dealerships support over the years.
"It is the community members that keep our business alive and thriving, so it is only right that we take on the social responsibility of supporting organization in our community that are making a difference," says Scott McCorkle, owner of Liberty Buick GMC. "We wouldn't be in business if it wasn't for the support we get from members of the community, so giving back is a part of our culture."
Liberty Buick GMC has a number of ways it gives back to the community. As a golfer, Scott often sponsors local tournaments that benefit a cause. "This is the kind of sponsorship that is a win-win for all," says Scott McCorkle. "We get to participate in the golf tournament with friends in the community and the profits, in turn, go to good causes. It's a great way to stay connected with other business owners in the community and give back."
McCorkle has also been an annual sponsor of the Faith, Family and Freedom Event held each year hosted by 91.9 New Life Radio station. "It's these kinds of event that are important to us as a business and a family in the community," added McCorkle.
Liberty Buick GMC is just one of a number of auto dealers participating in the Dealers Making a Difference program. "I know the other dealerships feel the way I do, and that is that together we can make a real difference in the community. I'm very glad to be participating in this program with my industry friends."
Liberty Buick GMC is located at 9028 East Independence Blvd. in Charlotte. Start you search online at http://www.clickliberty.com or call (704) 321-4366.