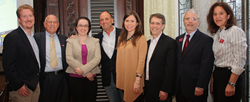 Purchase, NY (PRWEB) April 10, 2014
Manhattanville College's School of Graduate and Professional Studies hosted "The Power of Building Content and Community," Monday, April 7, as the third event in the "Insights into Leadership" speaker series in celebration of the graduate school's 20th anniversary. A panel of marketing masters from Westchester-based companies shared personal stories and key insights with the crowd of nearly 100 members of the Manhattanville and business communities.
Panelists Stacey Tank, vice president of marketing and chief corporate relations officer, Heineken USA; Bob Glazer, CEO, ENT and Allergy Associates; Tom Kallish, CEO, Tommie Copper; Danielle Cyr, vice president of integrated marketing, Co-Communications; and Peter Storck, senior vice president of research and analytics, House Party, shared ideas about content creation, social media, community building, and successful marketing strategies. The panel, moderated by Manhattanville College GPS Professor Todd Van Hoosear, vice president of corporate relations and stakeholder engagement, HB Agency, followed a networking reception in Manhattanville's historic Reid Castle.
The panelists answered questions about their company's best practices for creating and curating marketing content with optimal efficiency. "Shortcuts are important - find ways to make content come to you. The key is to remain plugged in and keep your antennae up for good content," said Cyr. "We specialize in consumer generated content," added Storck. "At House Party, community drives the content."
Also discussed was the importance of transparency as a key component of community building. "Radical transparency is critical," Tank said. "When we make a mistake, we say it and we fix it. We just keep communicating with the audience until the problem is fixed." Glazer said, "The best thing to do is connect with a (consumer) upfront if something went wrong." Kallish remarked, "Transparency leads to trust and trust leads to loyalty."
Community engagement and feedback were also determined as factors in a company's marketing strategy. "Your corporate culture must be committed to community," said Kallish. "We engage people that we trust."
Throughout the evening, guests who tweeted their thoughts on the panel, using "#GPSMarketingPanel," were entered into a raffle for gift certificates from participating companies, Tommie Copper and House Party. The winners of the live social media contest were announced at the conclusion of the panel discussion.
"The social media contest added a unique, interactive element to the marketing panel and certainly demonstrated the power of content creation," Davidson said. "The panelists did a terrific job of pinpointing the most important aspects of successful content marketing and community building."
In celebration of The School of Graduate and Professional Studies' 20th anniversary year, the "Insights into Leadership" series offers speakers with a broad range of business expertise, presenting their views on local, national and global trends. The fourth presentation in the series, scheduled for late May, will focus on global finance. The event series is sponsored by Westfair Communications.
About The School of Graduate and Professional Studies at Manhattanville College:
For two decades, The School of Graduate and Professional Studies has helped prepare today's professionals for tomorrow's business. Instructors are seasoned experts holding senior positions at major companies such as Morgan Stanley, Major League Baseball, Pitney Bowes, Verizon, ABS Sports, and Associated Press.
Originally established as Adult and Continuing Education, GPS evolved in 1993 with the launch of the Masters of Science degree in Organizational Management and Human Resources Development.
Today, the school offers six Master's degrees, including, Business Leadership, Finance, Human Resource Management and Organizational Effectiveness, International Management, Marketing Communication Management and Sport Business Management. GPS also offers Advanced Certificates in Business Leadership, Finance, Human Resource Management, and Marketing Communication Management as well as three accelerated Bachelor's degree programs for adult learners.