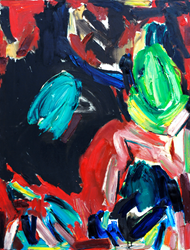 WHEN THE HEART OF THE CREATOR MEETS THE HEART OF THE OBSERVER, THERE IS A SYMPHONY OF ANGELS IN THE HEAVENS.
Brookhaven, NY (PRWEB) April 15, 2014
Self-published author Dr. Robert H. Baker's masterpiece paints a picture of Troyan's life, from his childhood in war-torn Poland, to his heroism in the Polish Cavalry during the invasion of Poland by the Nazis on September 1, 1939, to his journey to America in 1950.
Baker has repeatedly said that, "The truth of art rests in the active release of all internal messages that would commonly be caged by societal mores." This realization is presented in Baker's book concerned with the life and works of Matthew Troyan, master artist, and the influences around him that affected his growth into adulthood and shaped his life and art.
Baker's book delves deep into Troyan's imprisonment and meetings with executioners in the camps of Auschwitz, Mauthausen, and Ebensee; we learn that his artistic talent actually saved his life as he painted for the Nazi officers. As a prisoner, he hid his own personal paintings in the camps, but the artwork was rescued after his release. After Troyan was liberated from the concentration camps, he studied with master artist Joan Miro and painted with Jackson Pollock and Willem de Kooning in New York. The book also divulges information about Troyan's three loves, his ever-present love of Christ, his life's battle with good and evil, and his rediscovery as a master artist after fifty years of obscurity.
Baker's parents emphasized not only academic pursuits but also the development of an emotional sensitivity in reacting to the world around him. Early on, he learned to sense and measure the pulse of the surrounding society and this proved to be essential in surviving the pitfalls of life that he encountered in his worldwide travels. He has spent his life involved in the pursuit of academic excellence in the fields of medicine, science, research, teaching, and the arts. Throughout his post-academic years, he has been involved in research in the fields of neurotology, neuroscience, auditory and visual perception, and the understanding of the creative process in the arts. He has spent a great deal of time publishing articles and giving public lectures related to medicine, perception, political structures, societal trends, and visual art.
To purchase a copy of this book, contact the author.