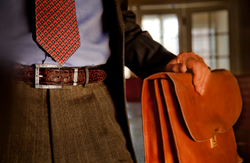 "Santa Fe's tri-cultural community remains a unique force and certainly I am pleased to continue to sell the work of numerous artists in John Rippel U.S.A." – John Rippel
Santa Fe, NM (PRWEB) April 10, 2014
Self-taught jeweler and master silversmith John Rippel, of John Rippel U.S.A, announces the celebration of 45 years in business in Santa Fe this year.
His store, located at 111 Old Santa Fe Trail—in the west side shops of the historic La Fonda Hotel—carries collectible Western jewelry and accessories with classic and contemporary influences, including his stunningly sculptured modernistic buckles versatile enough to wear around the ranch or a New York City board room. Rippel has been selling his custom-designed, handmade belt buckles longer than any other designer in Santa Fe and remains a presence in his shop where he offers custom belt fitting.
"After 45 years in Santa Fe, I am still inspired by the creativity that exists here and remain in awe at the level of craftsmanship," John Rippel said recently. "Santa Fe's tri-cultural community remains a unique force and certainly I am pleased to continue to sell the work of numerous artists in John Rippel U.S.A," he said.
To celebrate this milestone, shoppers can receive $45 off a belt strap of their choice with a custom fitting. Rippel's belt buckles are collectible, timeless, and can be mixed and matched with different a variety of leather belt straps for personalization. Originally influenced by 19th Century Navajo jewelry design, Rippel uses materials in an inventive and elegant way. His application of Sterling Silver, Gold, turquoise and gemstones make his men's and women's belt buckles, rings, cuffs, bracelets and earrings sought after for gift giving and for personal acquisition.
About John Rippel U.S.A:
John Rippel U.S.A., located at 111 Old Santa Fe Trail in the historic La Fonda Hotel, is a purveyor of fine jewelry and accessories, including sterling silver belt buckles, gifts designed by John Rippel, exotic leather bags and purses, leather jewelry, Santa Fe Flip Rings, Santa Fe Storywheels, Porsche Watches and Pens. Other artists whose work is carried in Rippel U.S.A include Randy Allen, Sally Bass, Andi Callahan, Tom DeWitt, Doris King, Cherie Magnello, Herbert Ration, Jennifer Sihvonen and Ray Van Cleve. John Rippel has been selling his custom belts since he arrival in Santa Fe 45 years ago.
For media inquiries:
Jennifer Padilla
JLH Media
505 577 1347
jpadilla(at)jlhmedia(dot)com