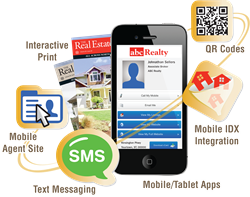 A lot of real estate marketing companies are really good at branding themselves. We tell agents that we want to be really good at branding you
Atlanta, GA (PRWEB) April 09, 2014
Agent branded web, tablet, and mobile sites can now compete with large listing aggregators to gain local buyers and sellers through The Real Estate Book's new suite of products, LocalSmartMobile. The inexpensive, and easy-to-use platform creates a satisfying home-shopping experience and local marketing tools to drive traffic to the agent's own brand versus a national listing site.
"A lot of real estate marketing companies are really good at branding themselves. We tell agents that we want to be really good at branding you," said Adam Brown, Senior Vice President of The Real Estate Book®. "That's something we've always believed in. Our job is to brand the agent."
The new offering allows agents to easily create IDX-fed web, tablet, and mobile sites so that home shopping consumers can search the entire MLS from the agent's own branded site.
"IDX-fed sites are not new to the industry," Brown added, "but the features of this offering is very unique and an extremely powerful tool for agents and brokers building their brand in their local market. The experience rivals any national listing site so the consumer never needs to shop anywhere else."
Brown said the new offering includes –

Agent branded website with IDX
Agent branded tablet site with IDX
Agent branded mobile site with IDX
Mobile Business card
Gateway app for iPhone or Android
Vanity text codes
Mobile lead generation tools – text for info and QR codes
Custom single property mobile, tablet and websites
One-click digital ad creation for email campaigns and web postings
Printable PDF property brochures with mobile lead generation
GPS-enabled yard signs
Lead management, tracking and analytics
Simple dashboard management
"These new tools combined with our local print offering really synchronizes the agent's marketing efforts to create what we think is the most effective way to promote the agent locally, generate more buyer leads, and to help the agent gain more listings," adds Rebecca Chandler, Vice President of Marketing for the brand. "The total package is also very, very affordable since we combine all the tools into one. Paying for them individually would be much more expensive, so it's really a cost-saving for the agent."
For home shoppers, the experience is easy since most are shopping while out and about – from their phones. "Mobile browsing stats sky rocket on the weekends when most home shopping takes place, so it's absolutely critical that agents today have all the mobile tools necessary to engage their prospective clients – at the exact time and place they are shopping," Brown said. "Anything less than a satisfying mobile experience for the user will send them on to the next site or app and the agent loses the opportunity."
"The Real Estate Book® knows local advertising better than any of our competitors," Brown said. We've been distributing local real estate magazines on the streets of North America for the last 30 years – successfully, and our local distributors know their markets better than any telesales rep in another state ever could."
"This local advantage means that agents and brokers are working with a local expert to distribute their advertising in places where their prospective clients actually live, work, shop, and play versus waiting, wishing and hoping to be found in a Google search online," Chandler added.
To learn more about the LocalSmartMobile advantage, contact a local Real Estate Book representative. Find them at Store.RealEstateBook.com.
For more real estate marketing tips, go to Blog.RealEstateBook.com.
###
About The Real Estate Book/RealEstateBook.com
The Real Estate Book offers print, web, mobile, direct mail and social media tools to deliver leads and result s to real estate professionals. With local print publications in over 300 markets across the U.S., Canada, and the Caribbean, and approximately 300 additional markets displaying online content, RealEstateBook.com is a top-rated real estate website with over 1.5 million listings updated daily.
About NewPoint Media Group
NewPoint Media Group, LLC ™ specializes in targeted media solutions that include both print and digital distribution to create integrated advertising and marketing services that amplify overall effectiveness and results. Leading brands include The Real Estate Book, Mature Living Choices, Senior Living Choices, New Home Finder, New Homes & Ideas, and New Homes Journal. In addition, the Company's Publications Print Division provides these services to a variety of industries. The Company specializes in integrating print and digital media to effectively reach and engage a targeted consumer audience through local print distribution, web, mobile, direct mail, and social outlets. For more information, visit NewPointMediaGroup.com.
Contacts:
Rebecca Chandler, VP, Marketing
NewPointMedia Group , 770-962-7220 ext. 24672, rchandler(at)NewPointMediaGroup(dot)com