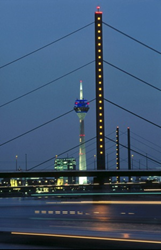 USA tops the list of countries with the highest increase in visitor numbers to Düsseldorf (plus 15.8%).
Düsseldorf, Germany (PRWEB) April 09, 2014
Nobody is surprised any longer by the immense growth in international visitor numbers to Düsseldorf, because the city's tourism statistics have been breaking record after record for the past years. But the new all-time record of nearly 4.25 million hotel nights in 2013 (source: North Rhine Westphalia State Statistical Office), the second consecutive year that the four million mark was broken, lit up the travel industry when it was announced by the city's lord mayor Dirk Elbers at the world's largest travel and tourism convention -- ITB 2014 -- in Berlin last month. Why? Many industry experts have long associated Düsseldorf's success as a leisure destination with the city's status as a major trade show and conference city. However, the 2013 record came in a year in which fewer of the larger trade shows were scheduled, clear evidence the city has transformed into a leisure destination in its own right attracting millions with its attractions and sheer beauty.
"Düsseldorf is a trade show and conference city with much economic power, but it's also an attractive destination city with numerous cultural options, top events, and unique shopping experiences galore," confirms Dr. Eva-Maria Illigen-Günther, the city tourism board's CEO.
Overall, international travel to Düsseldorf is remarkably high, with around 40% of hotel nights booked by visitors from abroad. The number of hotel nights booked in 2013 by travelers from other countries grew by 3.7% overall (exact number: 1,696,419). USA tops the list of countries with the highest increase in visitor numbers (plus 15.8% /126,266 hotel nights), followed by Russia (plus 15.2%), United Arab Emirates (plus 14.4%), Netherlands (plus 5.6%), and United Kingdom (2.7%).
With the city no longer dependent on business travel alone for its high visitor numbers, high levels of leisure travel can also be expected for 2014, especially with several major events taking place in the city's major travel categories: culture and shopping. "Quadriennale Düsseldorf 2014," the city-wide fine arts festival that happens every four years, takes place April 5-August 10, 2014, and connects 13 of the city's most important art venues under the theme "Beyond Tomorrow"; 2014 is a year for "Schumannfest," the biennial celebration of the master composer who lived and worked in Düsseldorf; and the city's status as top shipping destination received another boost with the extension of famous shopping boulevard Königsallee, one of Europe's top shopping boulevards. The extension, called "Kö-Bogen" (Königsallee Arch), is a structure designed by American architect Daniel Libeskind and a new city highlight for modern architecture and high-end shopping enthusiasts.
Düsseldorf's tourism office is offering hotel and city specials for many of the city's events throughout 2014. Packages, called "Düsseldorf à la Card" can be booked right from the tourism office's website at http://www.duesseldorf-tourismus.de/en/hotel-packages/duesseldorf-a-la-card/. Prices start at €49 per night per person based on double-occupancy for a 2-3 star hotel in the city center and at €95 per person for a 4-5 star hotel. All packages include breakfast, a DüsseldorfCard (free public transportation within city limits plus 30 free or reduced admissions to city attractions), and a city information package. Please check the website for current information.
For more information on the destination Düsseldorf and a calendar of events, visit http://www.visitduesseldorf.de.
Düsseldorf Marketing & Tourism GmbH is the visitors and convention bureau of the city of Düsseldorf. Its responsibilities include tourism and city marketing, as well as conference and meeting marketing, hotel reservation services, fairs and convention services, city event ticket sales and advance ticket reservations. For more information, visit http://www.visitduesseldorf.de.
Düsseldorf Airport, Germany's Next Generation HubTM, offers several non-stop flights from US & Canadian cities (Atlanta, Chicago, Ft. Myers, Los Angeles, Miami, New York, Newark, Toronto), as well as convenient connections to many European cities. For more information about the airport, visit http://www.dus.com.