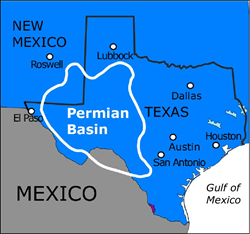 Looking for a successful drilling outfit Ageis has 7 for 7 in wells drilled this will be revenue for many years to come.
Pecos, Texas (PRWEB) April 09, 2014
Aegis Oil recently reported an oilfield discovery as part of its $300 million oil drilling campaign. The discovery was reportedly made in a previously undiscovered zone situated within the Woodford Shale in Pecos County, Texas.
 
The discovery comes in the wake of several other oil and natural gas discovery in in the Permian Basin, which spreads across eastern New Mexico and western Texas and includes Pecos County. It comprises 7,000 oil fields across 59 counties. With new drilling technique and improved technology the area, which was previously thought to be exhausted, is becoming an increasingly key component of domestic oil production. In an area previously considered a fully developed shallow Yates Field, Aegis Oil has hit eight consecutive vertical wells in the county in the last year, including two deep wells.
 
"These discoveries further prove how independent exploration and production companies such as Aegis Oil are making significant contributions to identifying and understanding the immense reserves in The Permian Basin," Aegis Oil CEO Regn Beason recently commented. "We are excited as a company and for our partners. Texas is once again leading the nation in oil field production and innovation. The Permian Basin is truly a game-changer in a global sense."
 
Visit oilandgasinvestmentcompanies.com to learn more about Aegis Oil and their drilling endeavors. This week we will have a follow up series on the Permian Basin, landscape, types of rigs, competitors, and the Texas railroad commission.
 
About Aegis Oil
 
Based in Plano, Texas Aegis Oil is a leading domestic oil and natural gas producer. Aegis Oil is led by CEO Reagan Beason who has over thirty years of hands-on experience in the oil industry. Currently Aegis Oil is focused on oil drilling in the West Texas Region and The Permian Basin. The company has a track record of producing fields and increasing reserves while lowering risk and cutting costs by operating on a low overhead cost structure.
For more investment information Contact
Doug Vandivier Toll Free 866.600.2180
Director of Marketing