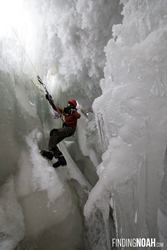 These men risked their lives to do something few others have been able or even allowed to do.
Los Angeles, CA (PRWEB) April 09, 2014
Having wrapped principal photography on their groundbreaking new documentary entitled, "Finding Noah", filmmakers Brent Baum (Director/Producer) and Matthew Marsden (Producer), have released the first trailer for their cinematically triumphant exploration into one of the world's most revered mysteries.
"Man's need for exploration has been present since the beginning of time. We had the opportunity to film a brave group of explorers during a month long expedition on the summit of one of the world's largest and most irascible mountains. Not to mention the fact that the mountain happens to be in the middle of a geo-politically contentious area…", said Brent Baum, the film's director.
Shot in never-before filmed locations under the harshest of conditions, production of Finding Noah takes place on the tallest mountain in the Ararat region, Agri Dagh or "The Painful Mountain." This 17,000 ft giant lies on Turkey's eastern border with Iran, Iraq, Armenia and Syria as neighbors.
Baum continued, "These men risked their lives to do something few others have been able or even allowed to do. In every moment of the expedition, there were risks of deadly rocks falls, glacial ice falls, hidden crevasses and even kidnappings, yet without hesitation, they continued on their journey for answers."
The trailer for Finding Noah can be found on Youtube.com at the following link.: [https://www.youtube.com/watch?v=eWnEMLgpTlM
In the weeks to come, the filmmakers will release a series of clips, interviews, and other media from the film on its social network platform, which has experienced record growth in just a few short days online.
Social Media Address
Website: findingnoah.com
Facebook: facebook.com/findingnoahfilm
Instagram: instagram.com/findingnoahfilm
Twitter: twitter.com/findingnoahfilm
Youtube: youtube.com/findingnoahfilm
For more detailed information or to learn about distribution opportunities, please contact us by phone at 323-468-3975 or by email at: findingnoahfilm(at)gmail(dot)com
About 17K ASL
17K ASL is a Los Angeles based creative development and production company with headquarters at the Sunset Gower Studios. Partner Brent Baum is a film producer and director based in Los Angeles. As a film executive he helped develop, produce, finance, sell and distribute over a dozen motion pictures. Films include THE WEDDING PLANNER, EYE OF THE BEHOLDER, THOMAS AND THE MAGIC RAILROAD, BEAUTIFUL and BUYING THE COW. FINDING NOAH is his first documentary. Partner and Producer Matthew Marsden is an accomplished British actor most recently seen in films such as BLACKHAWK DOWN, TRANSFORMERS 2, RAMBO and ATLAS SHRUGGED.