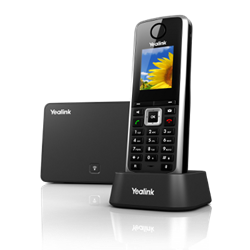 A number of our customers have warehouse facilities, so this gives employees there a solid option for mobility without losing the features they have on their desk phones
Dana Point, CA (PRWEB) April 09, 2014
SimpleSignal, Inc., the leading cloud-based Unified Communications and Collaboration provider for business, today announced the addition of the Yealink W52P DECT IP Phone to its list of supported unified communications hardware. The W52P, unveiled by Yealink in February of 2013, provides small to medium-sized businesses with next generation IP phone functionality combined with the freedom of cordless mobility.
Equipped with HD sound technology and a wireless range up to 300 meters outdoor, the W52P not only provides business users with functionality they expect from an IP telephone, but also gives them the mobile capabilities of a wireless device. The DECT wireless technology allows the W52P to be operated as a portable device while ensuring that call quality is never compromised.
"The W52P DECT phone is perfect for our customers that need a portable device in the workplace or home office," said Ujjvall Karihaloo, SimpleSignal's CTO. "A number of our customers have warehouse facilities, so this gives employees there a solid option for mobility without losing the features they have on their desk phones."
Some of the features of the W52P DECT Phone include:

Exceptional HD sound with wideband technology
Up to 4 simultaneous external calls
1.8" color display with intuitive user interface
Up to 5 handsets, Up to 5 VoIP accounts per base
Local Phonebook for up to 500 entries (store in the base), synchronized with handsets via DECT radio
10 hours talk time, 100 hours standby time
Repeater Support
Over-the-air Support
Full-duplex hands-free speaker phone
The W52P is available for all SimpleSignal customers and is preconfigured for easy plug-and-play installation. For more information about the Yealink W52P DECT phone, please visit http://www.simplesignal.com/hosted_pbx_phones_hardware.php.
About SimpleSignal
SimpleSignal is an Enterprise hosted PBX and cloud-based Unified Communications service provider, delivering voice, video, and mobile communications to thousands of satisfied business customers globally. The company provides the most innovative and advanced mobile/video PBX capabilities in the industry, and is one of the first companies ever to extend video PBX telephony over iPads, iPhones, and Android mobile devices that can connect with any brand of video conferencing equipment. For more information, visit http://www.simplesignal.com, check out the company blog at http://www.simplesignal.com/blog, or connect at facebook.com/simplesignal and twitter.com/simplesignal.