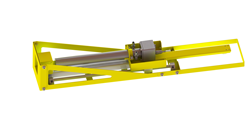 Paris, France (PRWEB) April 09, 2014
HGH Systemes Infrarouges, a global provider of thermal imaging systems, proudly announces the debut of their newest all-in-one solution for rotary kiln combustion and entrance cooler temperature monitoring. The new PYROSCAN is a pyrometric camera model powered by Ethernet with the highest resolution on the market (1.2 Mpixels), allowing accurate measurements of temperatures in every image point, through the 1300 °F to 3250 °F thermal range.
The major innovative feature is the use of High Dynamic Range (HDR) technology which produces a contrasting image without the effect of underexposed or conversely saturated areas, an essential aspect to simultaneously see the details on the flame and on the clinker. Additionally, the PYROSCAN software provides an anti-dust image processing filter and analyzes lines for flame shape monitoring, in order to optimize the combustion process -all the more important with the increased use of alternative fuels. Finally, the new design is completely modular and compact, weighing in at just 6 kg without the frame. This new PYROSCAN is contained in water cooled housing and a pneumatic actuated frame, which is very well-adapted to the harsh environments often associated with Industrial Kilns.
HGH Systemes Infrarouges' new PYROSCAN provides with an analyzing eye inside the kiln, to efficiently control combustion conditions and potential issues at the cooler entrance. Overall, the PYROSCAN allows production managers to maintain a more stable manufacturing process, achieve increased productivity and reduce maintenance. With thirty years of experience and success in cutting-edge infrared technology, HGH Systemes Infrarouges looks to usher in a new generation of their award-winning products with the PYROSCAN.
HGH Systemes Infrarouges will be officially announcing the product launch at the CEMENTTECH show in Beijing, China April 28-30th.
Founded in 1982, HGH designs, develops, assembles and sells complete high end optronics systems for security, industrial and civil applications. HGH's team of highly qualified engineers is comprised of experts in optics, software, mechanics and electronics and their headquarters are based in Igny, France. HGH strives to provide advanced and innovative infrared equipment to protect their clients all around the world, while keeping the agility and dedication of a small and passionate team. Speed, flexibility, technical excellence and innovation constitute their core values. HGH has established itself as an international reference for infrared technology innovation, with their Kilnscan winning Paper Industry Magazine's Product of the Month in 2013.