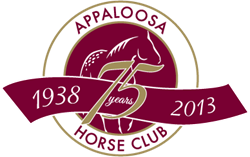 Moscow, ID (PRWEB) April 09, 2014
The Appaloosa Horse Club (ApHC) would like to congratulate Arizona Appaloosa Association of Gilbert, Arizona for winning the ApHC's annual exemplary Regional Club award, an honor developed to recognize Regional Clubs that go above and beyond when promoting the Appaloosa breed.
Arizona Appaloosa Association, which represents the breed in Arizona, will receive a $500 check, a perpetual trophy for one year, and trade show space at the World Show or National Show along with two tickets to the Open Banquet that will be held at the 67th National Show this summer from the ApHC.
Arizona Appaloosa Association competed against seven other Regional Clubs throughout six territories for the honor. The single highest scoring Regional Club in each territory moved on as finalists to compete for the exemplary award.
The six highest scoring Regional Clubs will receive a $200 check along with a plaque from the ApHC.
Territory winners include: Eastern Montana ApHC, Territory I; Arizona Appaloosa Association, Territory II; Illinois Appaloosa Association, Territory III; Louisiana State ApHC, Territory IV; Bluegrass State ApHC, Kentucky, Territory V; and Maine ApHC, Territory VI.
Each of the eight competing Clubs will receive a Certificate of Merit from the ApHC to recognize each and every one of the participating Clubs efforts, which included submitting a portfolio detailing the Regional Club's Appaloosa shows, activities, sales and other events that its members hosted. The Clubs were then scored in categories that focused on the Club's member participation.
The Clubs' submissions will be available for viewing the 67th National Show in Fort Worth, Texas.
The Appaloosa Horse Club (ApHC) was established in 1938, with a mission of preserving, promoting and enhancing the Appaloosa breed. The ApHC has since registered more than 700,000 Appaloosas, which are known for their distinctive color, intelligence and even temperament. True to their reputation as an extremely versatile breed, Appaloosas can be found in nearly every discipline, including racing, endurance riding or serving as reliable family horses. The international breed registry is headquartered in Moscow, Idaho, the heart of the Palouse region, the Appaloosa breed's namesake and point of origin.