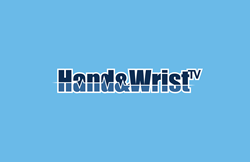 I very much enjoyed the opportunity to showcase one of the world's most recognized fighters.
Los Angeles, CA (PRWEB) April 09, 2014
Hand and Wrist University is delighted to announce that Dr. John T. Knight has launched the first ever online Hand and Wrist TV show. This endeavor is dedicated to providing news associated with common hand and wrist injuries and conditions affecting sports athletes and the general public.
For the launch of the Hand and Wrist TV show, George St. Pierre, retiring MMA fighter, demonstrated how he wraps his hands prior to gloving them before a fight. In his interview with Dr. Knight, the MMA champion also addressed multiple factors affecting the wrists and how vital wrapping the hand is for athletes in his line of work.
Throughout his interview, Pierre addressed the use of drugs – particularly performance enhancers - as a major issue in MMA. Wanting to stand out, he became an advocate of a structured drug policy in the USA. This would give him the boost needed to change the system and to make a difference.
Since MMA is a relatively new sport, there are no policies or procedures put in place to ensure that MMA fighters are tested. St. Pierre emphasized that he wanted to do something positive, proposing that MMA fighters get tested in the future. This would put MMA athletes among the ranks of athletes who are tested in their fields and would level the playing field, so to speak.
Of his programming stint with St. Pierre, Dr. Knight said, "I very much enjoyed the opportunity to showcase one of the world's most recognized fighters. Information on how to prevent injury and care for the hands can benefit everyone, from pro athletes to all of us. We all use our hands every day, so this information is important."
Anyone interested in seeing the full interview with GSP and the first MMA Show, can visit the YouTube Channel at http://www.youtube.com/channel/UCyPU7QLfqAmASXacRBZO6Mg and the website at http://www.handandwristtv.com/.