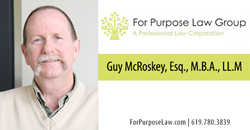 (PRWEB) April 10, 2014
Having extensive, first-hand business experience in real estate, corporation development and taxation, lawyer Guy McRoskey was a desirable addition to For Purpose Law Group. But, it was not just Mr. McRoskey's professional credentials and history of skilled legal services that attracted their attention.
With his multi-passionate entrepreneurial endeavors and his service to socially conscious business owners, Mr. McRoskey brings a dedication to nonprofit organizations within his community and enthusiastically supports their mission driven goals. As a principal in several successful manufacturing, real estate development, property management and consumer marketing ventures, Guy's background greatly enriches his understanding of business concerns within the practice of law. His experience in providing capable legal services to nonprofit organizations, and his appreciation for the powerful impact business can have on local communities, For Purpose Law Group was eager to add Mr. McRoskey to their team of lawyers.
After graduating with honors and earning his Bachelor of Arts from Harvard University and his Master of Business Administration from the University of California Los Angeles Graduate School of Management, Mr. McRoskey was ready and eager to begin his legal training. His Juris Doctor and his Master of Law in taxation from the University of San Diego School of Law have been instrumental in allowing him to provide legal services for business development and the operation of social enterprises, corporations and partnerships. They have also enriched his background in real estate, transactional operations and tax administration. His combined professional history and education in business and legal services, Mr. McRoskey offers his clients an unparalleled perspective on tax litigation by protecting businesses from common and unfortunate pitfalls.
In his free time, Mr. McRoskey remains an active member in the Southern California community. He takes a special interest in assisting social enterprises and nonprofit organizations that serve the local community and has remained a longstanding board member at Bread of Life Rescue Mission, an organization dedicated to feeding and sheltering the urban homeless in Northern San Diego County.
For Purpose Law Group has been providing full-service legal advice to nonprofit organizations, small businesses and social enterprises throughout California and was seeking a lawyer of Mr. McRoskey's caliber as an addition to their growing areas of expertise. Mr. McRoskey's uncommon appreciation for the needs and objectives of entrepreneurs and social enterprises, and the challenging constrains they often face, not only as a lawyer, but also as a contributing member of his community, made him an ideal candidate for their firm.