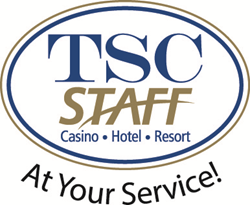 "We are excited to present this new hospitality staffing brand today that was designed with the needs of the hospitality industry in mind".
Las Vegas, NV (PRWEB) April 08, 2014
The Service Companies has officially launched their new hospitality staffing brand - TSC Staff. TSC Staff provides staffing services to hotels, casinos and resorts and is a culmination of The Service Companies more than 27 years of experience providing heart of the house services to the hospitality industry.
"We are very excited to present this new hospitality staffing brand today that was designed with the needs of the hospitality industry in mind," states Mike Rosenow Chief Staffing Officer. TSC Staff has the capability to provide between 5 and 200 employees per day at any property and utilizes all of the latest state of the art staffing technology.
"TSC Staff is financially strong and transparent in every way in which we operate to include employee pay rates, customer billing rates, training and recruiting. In addition we believe TSC Staff will provide an unparalleled level of service to our customers," according to Rosenow.
The Service Companies, already providing some staffing services to major hospitality brands has launched TSC Staff in Arizona, California, Colorado, Florida, Louisiana, Mississippi, Nevada Ohio and Tennessee. TSC Staff will provide supplemental employees in departments such as Banquets, Culinary, Facilities, Food and Beverage, Housekeeping and Laundry. The Company also provides hospitality management recruitment services.
More information can be found on the TSC Staff website at http://www.tscstaff.com and staffing orders placed at (855) 9STAFF6.
About The Service Companies (Follow Us On Twitter and Facebook)
The Service Companies' portfolio not only consists of TSC Staff but also JRS International (JRS), Maintenance Masters International (MMI), and Full Service Systems (FSS), three of the most well-known heart of the house hospitality management providers exclusively dedicated to the hotel, casino and vacation ownership industries. The 27 year old TSC serves nearly 400 properties in 40 states and the Caribbean with 6000 employees. The Company provides services ranging from staffing, turn-key housekeeping and stewarding services to public areas, kitchen, window and chandelier cleaning services. Led by an executive team with more than 200 years of combined experience at AAA Four Diamond hotels and casinos, The Service Companies have an impressive track record, serving a variety of exclusive clients such as Ritz-Carlton, Four Seasons, Caesar's, MGM, Loews Hotels, Hyatt Hotels Corporation, and Wyndham Resorts. The firm's model delivers consistently high levels of service quality and improved performance at the bottom line. For more information on The Service Companies, please call 800-385-8800 or visit http://www.theservicecompanies.com.