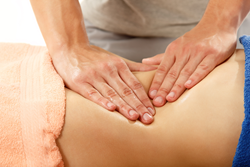 Among Thai Therapeutic Massage's benefits: a reduction in joint pain, soreness, swelling and muscle fatigue.
San Rafael, CA (PRWEB) April 24, 2014
Rutsamee ThaiBody Massage, a therapeutic massage business serving the San Francisco Bay area, is now offering a special promotion on prenatal and postpartum massage for women.
The new prenatal massage promotion and special offer for new mothers provides a 30% discount for those who sign up for four or more prenatal and/or postpartum massage treatments. Rutsamee's Prenatal and New Mom Massage Packages offer many ways to improve both physical and emotional health for new or expectant mothers.
The benefits of prenatal and post-partum massage are recommended by the American Pregnancy Association, a national organization dedicated to providing reproductive and pregnancy wellness. Among Thai Therapeutic Massage's benefits:

Reduction in joint pain, soreness, swelling and muscle fatigue.
Regulation of hormones to reduce mood swings and provide greater well being.
Improved circulation to speed up healing time for tears or abdominal incisions.
Improved sleep patterns to reduce stress and bring relaxation.
"The massage helps with back pain, stiff neck, shoulder pain and muscular strains or tension," said Yuri Yim, the manager of Rutsamee Thaibody Massage. "New moms and pregnant women come in feeling stressed, tired, and sore—and they walk out after a massage feeling calmer and more relaxed."
For a pregnant woman a Thai therapeutic massage also stimulates their lymphatic system, which is critical for the health of an unborn child. The fetus relies on the mother's lymphatic system to ward of infection. The lymph system also helps to remove pollutants and toxic chemicals from a mother's body. "For both the prenatal and New Mom Massage we incorporate aromatherapy, which uses essential oils and aromatic plants to improve health," Yim explained. "It helps to cleanse the lymph symptom and and remove harmful toxins from the body."
It's not uncommon, she said, for pregnant women and new moms who come in for a massage to feel anxious and overwhelmed by it all. "Many just want relief from the pain that the extra pregnancy weight can place on their muscles. There can be a lot of physical discomfort from sustaining a nursing position for an extended period of time."
Rutsamee's prenatal and postpartum massage are designed reduce fatigue, stress, and help women deeply relax to alleviate some of the other changes that accompany their pregnancy such as tension headaches and mood shifts due to changes in hormone levels. Indeed many women seek out Thai Therapeutic massage after they give birth specifically to help regulate their hormone levels. According to medical research, up to 85% of new mothers experience "the blues" during the postpartum period. And roughly 10% of new moms experience postpartum depression.
Yim added that it's very important to listen and respond to what a new mom wants. Individual women often have specific requests. For example, some new moms want to be positioned face up only and others prefer lying on their side if they have back pain.
Whatever the situation, "we always try to accommodate someone," Yim explained. "The Prenatal treatment and New Mom Massage Package are designed to bring about relaxation and healing. We want women to get the most out of their massage experiences."
Rutsamee Thaibody Massage is located in San Rafael, Ca, and serves the entire San Francisco Bay Area. The company offers a wide range of massage treatments: Zen Shaitsu, Swedish, Deep Tissue, Prenatal, Postpartum and more.
For further information contact:
Rutsamee Thaibody Massage
http://www.rutsamee.com
415-524-2771
RutsameeThaiSpa(at)gmail(dot)com