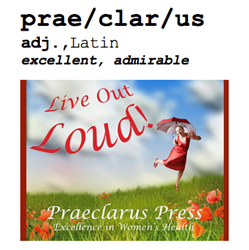 Our goal is to create publications that change people's lives.
Amarillo, TX (PRWEB) May 19, 2014
Founded in 2011, Praeclarus Press publishes printed books, e-books, webinars, and fun and uplifting art. Praeclarus Press is both green and socially conscious, and is committed to publishing technologies which deliver products in ways that minimize pollution and waste. In addition, Praeclarus has built "giving back" into their business model, and a portion of all of sales go to worthy organizations that support women and children in the U.S. and abroad. Working to keep costs low ensures that Praeclarus products are available to the widest possible audience.
Praeclarus Press is proud to work with authors who provide valuable material to publish, but also continually work to reach their specific audiences through speaking engagements, such as webinars, online conferences, and traditional conferences. Praeclarus has been fortunate enough to attract and collaborate with top experts in a variety of fields related to women's health, which has allowed them to stay true to their mission of changing lives.
For more information about Praeclarus Press' online offerings, please visit the Praeclarus site website for full details about webinars, books and authors, and the upcoming Maternal-Infant Safety conference, November 12-14 in Atlanta, Georgia. Maternal-Infant Safety conference Details for registering and a discount code to receive early bird pricing for the conference are available on the website.
Praeclarus Press is a small press specializing in women's health. It is owned by health psychologist Kathleen Kendall-Tackett and is based in Amarillo, Texas. Praeclarus Press features books, webinars, and other materials on all aspects of women's health.