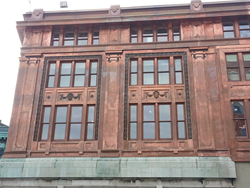 "We've taken the art of metalwork to a new level," says Tim Feruy, "and we're the only New York-metro area company with these metalwork technologies fully integrated onsite."
Newark, NJ (PRWEB) April 16, 2014
When NJ Transit, the nation's largest statewide public transportation system, chose to restore New Jersey's Hoboken Terminal, the task of the complicated metalwork restoration was ultimately given to Gotham MetalWorks. Gotham, a division of Extech Building Materials, the Newark-based company with a custom sheet metal division in Long Island City, New York was sub-contracted by Apple Restoration and Waterproofing and presented with the challenge of literally putting a new face on the grand old relic.
"It's an important building to save," said John E. Weiss, Jr., President of Apple Restoration. "And we never forgot that we were preserving a landmark." The team from Gotham met with the contractors from Apple Restoration on site every day, collaborating on solutions to new challenges that continually presented themselves, and to advance the project and keep it on track and on schedule. "The project was ultimately a success due to the great teamwork between our groups of professionals."
"Apple did the installation, bringing the building up to current standards. Our assignment was to replicate what was originally here, to fabricate the metal," said Tim Feury, President of Extech. "Specifically, our challenge was to upgrade and update the copper metalwork facing on a specific section of the Terminal in order to preserve its historic nature. It was quite a task, not only to conform to the specs that came from New Jersey Transit, but also to stay true to the spirit of this important landmark."
Historic Hoboken
The Hoboken Terminal building, with its innovative design and ingenious engineering, is listed in both the State and National Registers of Historic Places. Built in 1907 to integrate ferry, rail and eventually trolley traffic for the area, it became a way station for immigrants arriving by ferry from Ellis Island. In short time, rail service to New York was added, and it became a milestone in American transportation development. Today, about 60,000 commuters use the station on a typical weekday for rail, light rail, bus, PATH and ferry services.
Time and weather had taken their toll, as they will on any building more than 100 years in age. The Beaux-Arts style edifice had been adorned with dozens of intricate copper moldings with egg-and-dart patterns and mounted fleur-de-lies. "Some were missing entirely, some were in very bad shape," said Feury, who estimated that Gotham had to replicate and replace about 80 percent of the pieces, refurbishing the rest. The company used 3D modeling to capture each intricate design and translate it to mathematical data.
"We work with the data, recording the detailed curves and contours of the objects that ultimately allow us to create the finished product," said Feury. "Instead of cutting metal with a pair of tin snips, the way the original craftsman had to do to build this landmark, we use state of the art technology and automation to create the precision cuts needed to generate a finished product," Feury said. "We've taken the art of metalwork to a new level."
While handcrafting specialists still exist and apply their trade faithfully, Feury says, "restoration projects of this size, scope and importance benefit greatly from Gotham's modern approach. By eliminating human error and accelerating the production process, Gotham delivers the required results at great savings to its clients."
"When we make a cut or an angle or a connection—it's perfect. Our technology never has an off day," said Feury, adding, "and what might take an expert 12 hours to craft by hand, our process can do in 30 minutes, and with higher precision. Our clients also value the fact that Gotham has vertically integrated all its metalwork technologies.
"We create our own stamping dies and do our own stamping at our Red Hook facility. We are the only place in the New York-metro area that has all these capabilities within their company."
Of course, there are always unexpected challenges in any restoration and the Hoboken Terminal had a few curves to throw at Gotham; like, the walls. "Due to age, settling, water damage and frost, over time the masonry on the walls had weathered so that they were shaped like a potato chip," said Feury. "It made precision measuring that much more difficult, but also that much more important."
Beyond replicating the copper designs, the mounting of the copper restoration pieces on these serpentine walls presented further challenges. "Many of the original metal mountings for the copper, having been exposed to the weather more than century, had rusted completely through," Feury said. "We replicated their design as well and replaced them with laser-welded marine-grade stainless steel to hang the cornices and hold them fast to the building."
Today, the copper is new and gleaming, but it will take on a subtly different appearance over time. "That is the beauty of copper. Oxidation brings on the natural patina, and when it takes hold, the copper will transform from orange to brown to green over about 10 years," said Feury, adding "Copper will last. It's made to last. And we have designed this restoration so that this copper will be serving this building 100 years from now."
Specializing in Landmark and historical replication, Gotham MetalWorks preserves old world beauty through modern day design expertise and technology. Located in Long Island City, NY, Gotham is a subsidiary of Extech Building Materials, the Tri-state area's premier supplier of building materials and services for professional builders and contractors.