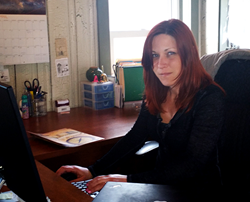 Laura continues to be a vital part of our team at Jurin Roofing and our affiliated companies.
Quakertown, PA (PRWEB) April 09, 2014
Laura Wertman celebrates her 10 year anniversary with Jurin Roofing Services this spring. As Marketing Manager for this $7 million dollar a year commercial roofing firm, she has spent her tenure with Jurin Roofing building a strong marketing presence for the company while helping push their 4 million in sales to 7 million a year. Personally overseeing all marketing aspects of the business, she is responsible for all advertising, print media, web media and company branding. She is also a web site designer and has personally designed and built the Jurin Roofing website.
Laura Wertman has studied at the Baum School of Art and majored in Graphic Design and Computer Animation before beginning her career as a Marketing Manager for Jurin Roofing Services. Before joining Jurin Roofing Services she was a Graphic Designer for Sodexho USA's corporate dining division.
"Over the last 18 years I have worked mainly in the design industry ranging from food sales to computer software. However I have always had a love of marketing and sales and in my position with Sodexho I worked closely with their sales team. My design background has allowed me the ability to not only help the executive team at Jurin plan a marketing strategy, but also play a part in the creation and implementation."
In the last few years, Laura has executed several successful marketing initiatives to increase sales such as social networking, website search engine optimization, and email newsletters.
"As Marketing Manager for Jurin Roofing, it is important to me to feel confident that Jurin will always deliver top quality, professional work along with the best customer service. It's a great feeling knowing that I work for one of the best roofing companies on the east coast and can take great pride in the work we do and the way we serve our clients."
Christophor Jurin, President of Jurin Roofing Services shares his thoughts on Laura's contributions to the company over the years. "Laura continues to be a vital part of our team at Jurin Roofing and our affiliated companies. She brings with her a great sense of creativity and passion for her position. She continues contribute to the success of our organization as she grows in her skills and knowledge."
Founded in 1974, Jurin Roofing Services, Inc. is known for top quality roofing throughout the east coast. Jurin Roofing Services is a full-service commercial roofing contractor offering roof maintenance, roof and leak repair, and roof replacements. Jurin Roofing Services also offers professional roof services such as roof consulting and infrared roof moisture scans. Jurin Roofing is also a member of the National Roofing Contractors Association (NRCA) and is a Carlisle SynTec Hall of Fame and ESP (Excellence in Singly Ply) contractor.