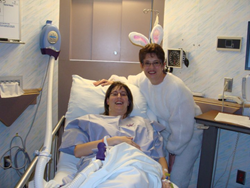 'Laughter is the best medicine!'" Susie said. "With my daughter facing end-stage cancer in her 30's, I was determined to do whatever was needed to help her laugh at this most difficult time!"
Lincoln, NE (PRWEB) April 10, 2014
There's no greater love than what a parent feels for their child. When that involves a young adult being diagnosed with cancer – stage four – in their 30's, Mom will do anything it takes to bring a smile to their face, even if it means embarrassing herself.
When Joy Huber was diagnosed with stage four cancer late March, she was scheduled for back-to-back surgeries on the Thursday and Good Friday leading into Easter Weekend. Understandably, the cancer diagnosis was devastating enough, but needing a different surgery two days in a row was downright depressing.
Until her Mom came to the rescue! Susie Huber is a big kid at heart who still wears Halloween costumes to work and does many other fun things just to bring a smile to someone's face who needs it. "You've heard it said that, 'Laughter is the best medicine!'" Susie said. "With my daughter facing end-stage cancer in her 30's, I was determined to do whatever was needed to help her laugh at this most difficult time!"
Susie secretly located her Easter Bunny suit – a furry white zip-up suit complete with bunny tail, head with ears, mitten paws, and shoes – and went into action. She slipped it on while Joy was getting ready to head to the hospital, and greeted Joy announcing she would accompany her (like this)!
They were greeted with many smiles and much laughter, walking into the hospital to check-in, and heading down the hall meeting medical staff who cracked up. While Joy was back in surgery, Susie roamed the hallways in search of even younger children in the hospital at Easter who she could bring a "dose of Joy" to!
"There's nothing better than being greeted by a human Easter Bunny when you come out of anesthesia to bring a smile to your face and help you forget your pain!" Joy shared. "Mom prefers to be called, 'Patricia Cottontail' over 'Peter Cottontail' since she's a woman!"
Susie's spirit of bringing happiness to others going through difficulty was definitely passed down to Joy. While still enduring 3 years of 18 chemo. treatments herself, and suffering the complete loss of her shoulder-length hair during cancer treatment as a single young adult, Joy founded and Authored "Cancer with JOY (Morgan James Publishing, NYC)" to bring comfort and happiness to the 1 in 2 men and 1 in 3 women who will face cancer in their lifetime. The uniqueness of this comes from the double meaning; the 1,500,000+ diagnosed with cancer every year in the U.S. alone can now face cancer with JOY quite literally with Joy as their personal guide who's "been there" as well as facing their own cancer with JOY figuratively! Joy's inspiring message is this: "No one's happy they have cancer! But you can have cancer and still be happy!"