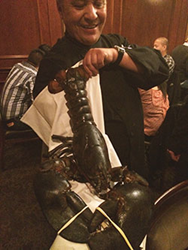 (PRWEB) April 09, 2014
Whether celebrating a special occasion, or dressing up an ordinary day, there are few ingredients as enticing and unique as Maine lobster. Now GetMaineLobster.com announces this recipe, Stuffed Lobster Orgenato, a famous favorite of Executive Chef Fernando Guerrero of Del Frisco's, Las Vegas.
Guerrero is known for creating new and innovative recipes – and here he demonstrates how to cook a huge lobster to pleasing perfection in six simple steps.
Ingredients include a large, hard-shell lobster, half & half, Italian bread crumbs, fresh cut oregano, salt and pepper, and olive oil.
First, turn the lobster on its back, and with a chef knife, cut the lobster in half lengthwise from the head to the tail. Clean out any of the intestine, tomalley, etc., from the body that is not desirable to eat.
To prepare for broiling, place the lobster on a sheet pan and generously rub half and half over the tail meat of the lobster. This helps sear and tenderize the lobster tail during the cooking process. Preheat the oven on broil setting. Once the oven is fully heated, place lobster in the middle of the oven for 15 minutes.
Prepare the stuffing orgenato: Mix Italian bread crumbs, fresh cuts oregano, salt and pepper, and olive oil.
Remove the lobster from the oven and change the oven setting from broil to bake and set to 350 degrees. While the oven is cooling down, add the stuffing mix over the lobster tail, and drizzle a little more olive oil over the mixture.
Place the lobster bake in the oven and bake at 350 degrees for 15 minutes.
After baking, take the lobster out and inspect the meat, making sure it is not translucent but completely white. Check the thickest part of the lobster tail to ensure the entire lobster is cooked.
Now place the huge lobster on a huge platter, carry it into the dining room with a huge sense of pride, place it in the middle of the table – and watch the huge smiles around the table.
GetMaineLobster.com offers many recipes and cooking suggestions to help seafood enthusiasts create exciting, delicious and healthy meals, for everyday, special days and holidays.
About GetMaineLobster.com
GetMaineLobster.com, a division of Black Point Seafood and Black Point Gourmet, hand-selects the finest Maine lobster, seafood and beef products for convenient distribution throughout the United States. Their passion is to make fresh, quality seafood readily available to customers across the country, which is why they buy from only the most trusted, well-established suppliers to ensure that they receive the finest products available.
GetMaineLobster.com was selected out of the more than four million small American businesses served by Chase bank to represent its new Platinum Business Checking product for its 2013 national advertising campaign.