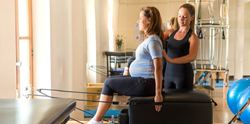 Simply put, Pilates can help you to have more energy, and a far healthier and easier pregnancy than you would have otherwise.
(PRWEB) April 10, 2014
According to Gollan, pregnant women seeking a new way of remaining healthy and fit throughout what can prove to be an exhausting nine month period should consider undertaking a series of Pilates exercises.
That's because, she says, gentle and regular exercise results in a far smoother pregnancy and delivery. Not only that but it can also lead to a far quicker recovery time than usual. However she does state that it is important to receive a GPs approval beforehand, particularly if the pregnancy is deemed 'at risk.' The following are some of the many tips she recommends in her new article titled '25 Tips for Pregnancy and Pilates for Optimal Women's Health.'
Find an experienced instructor
There are Pilates instructors who specialise in pregnancy exercises and it is to these that a pregnant women should always turn for assistance.
Make sure it's a small group
With a small group of up to six at most, pregnant women will receive the attention they need.
Make sure the instructor will modify exercises
This is essential for pregnant women since not all Pilates exercises are suitable.
Always remain hydrated
It's essential, especially during pregnancy, to ensure that the body is energised with water.
Monitor energy levels
Becoming tired during exercise or finding the stretching painful is a sign that it's time to stop and take a rest.
Don't Overstretch
During pregnancy the hormone "relaxin" is released. This causes the muscles to feel looser, and more flexible. As a result it's far too easy to overstretch ligaments which can lead to unstable joints at a later stage.
"Simply put, Pilates can help you to have more energy, and a far healthier and easier pregnancy than you would have otherwise," says former professional dance instructor Gollan.
"It's almost impossible for me to say enough good things about how beneficial Pilates is for pregnancy. It really is an ideal exercise for optimal women's health.
"Having said that, anyone who is curious about Pilates for pregnancy and who have never tried the exercise routine before should definitely go along and have a chat with a Pilates instructor first. That way you'll be able to put your mind instantly at rest – which after all, is important in itself during pregnancy."
Referring to her latest article she continues:
Balance should be monitored
During the third trimester in particular, pregnant women can become unsteady on their feet.
Resist beginning a new or challenging exercise programme
It's best to stick with what the body is used to and knows it can cope with.
Avoid lying on the back
This is especially important during the third trimester.
Work arms to improve scapular stability
This will result in added strength for holding the baby while at the same ensuring the neck isn't compromised in any way.
Strengthen the internal obliques and the TVA
Pilates exercises which focus on training the internal obliques and the transversus abdominus (TVA) are particularly useful. That's because contraction of the TVA provides support for the uterus, and helps to minimise abdominal separation.
Use Pilates to strengthen the pelvic floor
These are an important support during pregnancy and can help make the birthing process far easier.
Train with a Pilates fitness ball
It makes exercising easier, which is important during pregnancy.
Use Pilates to help alleviate any pregnancy aches and pains
These can be common during pregnancy, particularly back pain, rib pain, shoulder pain, cramps, swollen feet and hands – all of which can be relieved with Pilates.
Focus on safe and beneficial Pilates exercises
Some exercises can be particularly useful during pregnancy such as the saw, spine stretch and spine twist – all of which can be modified for individual needs.
Gollan and her team provide specialised Pregnancy Pilates classes at her studios in King William Road in Adelaide. More information is available on the Pilates website where a class timetable is also listed. Meanwhile Pilates updates and company news can be found on the Inner Strength Pilates Facebook page and their various Google Plus accounts.