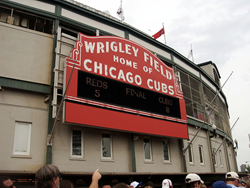 Chicago, IL (PRWEB) April 09, 2014
Ticket Down is a reliable source for affordable Blake Shelton tickets at Wrigley Field. Presales for Blake's show at Wrigley Field begin on Wednesday, April 9th and ticket sales to the general public start on Friday, April 11th. Ticket Down has secured a great selection of tickets for all budgets and seating preferences for Blake's concert at Wrigley Field.
One of the kings of country music, Blake Shelton, will be hitting the road this year on the "Ten Times Crazier Tour 2014." The tour will put Shelton in front of fans for more than 20 dates during the 2014 leg of the tour. It will begin in late June with a show at the Austin360 Amphitheatre in Austin, Texas and will run through early October with a show at the Hollywood Bowl in Las Vegas, Nevada. Shelton will take his show to many of the most popular venues in the country including the World's Most Famous Arena Madison Square Garden and the historic Wrigley Field on July 19th.
Shelton is the husband of another country superstar, Miranda Lambert, and is one of the most popular performers in country music. He is one of the coaches on the NBC hit, The Voice, and has been honored throughout his career with numerous awards, achievements and honors. One of the first awards he won in his country career was in 2010 for "Male Vocalist of the Year" from the Country Music Association. He would go on to win that award again in 2011, 2012 and 2013.
The country superstar has released eight studio albums in his solo career. His debut album, Blake Shelton, peaked at the No. 3 spot on the American country charts and was certified gold by the Recording Industry Association of America for selling more than 500,000 copies. He had great success with his first four albums, but it wasn't until 2011 that an album of his was certified platinum by the RIAA. Red River Blue was also his first No. 1 album, something he would later achieve again with his 2013 release, Based on a True Story…, which was his second No. 1 album.
Among the songs that fans of Shelton's will want to hear the native of Ada, Oklahoma perform include his No. 1 debut single, "Austin," as well as other No. 1 songs like "Some Beach," "She Wouldn't Be Gone," "All About Tonight," "Honey Bee," "Drink on It," "Over," and "Sure Be Cool if You Would." Shelton has 15 No. 1 singles in his catalog of radio releases that his fans will be clamoring to hear, as well as several songs that haven't reached the top of the charts including his latest single, "Doin' What She Likes."
Wrigley Field first opened in 1914 and is the home of the Major League Baseball team, the Chicago Cubs. The venue has been designated as a Chicago landmark and is one of the most loved venues in the country. The facility has been home to numerous concerts in the past including Billy Joel, Elton John, Pearl Jam, Jason Aldean and Kelly Clarkson. It will be busy again in 2014 with Shelton's visit on July 19 and fans will also get a chance to see other shows during the spring and summer.
About TicketDown.com:
Ticket Down delivers tickets to sold out concerts and events worldwide when no one else can, and they do so at discounted prices. This popular ticket exchange also has cheap Blake Shelton tickets at Wrigley Field. Add promo/coupon code BLAKE-SHELTON-2014 for added savings on any ticket order.
Note: Ticket Down is not associated with any of the artists or venues mentioned in this release. The names that are used in this release are purely for descriptive purposes. We are not affiliated with nor do we endorse any artists or venues in this release.