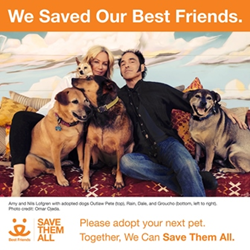 We remain huge fans -- and supporters -- of the great work Best Friends Animal Society does.
Los Angeles (PRWEB) April 09, 2014
Nils Lofgren, musician, songwriter, solo artist and beloved guitarist with Bruce Springsteen's iconic The E Street Band, and his wife Amy, are supporting national animal welfare organization Best Friends Animal Society's efforts to end the killing of dogs and cats in our nation's shelters.
On April 10, Lofgren along with Springsteen and the other members of The E Street Band, will be formally inducted into the Rock & Roll Hall of Fame. The E Street Band, along with other inductees, will also perform during a simulcast of the event.
Lofgren joins Danny Trejo, Carrie Ann Inaba, Denise Richards and other celebrities who will be featured in Best Friends' photo campaign featuring celebrities posed with their personal rescued dogs and/or cats in support of the Save Them All® call to action.
Save Them All is important to Lofgren because he and his wife, Amy, have "always been animal lovers and can't say enough about the love and companionship our dogs bring to our lives every day.
"We remain huge fans -- and supporters -- of the great work Best Friends Animal Society does," says Nils. "What a blessing and beautiful example of service and kindness they are to animals, animal owners, admirers and supporters everywhere."
According to national statistics, each day more than 9,000 dogs and cats die in the nation's shelters. Best Friends has brought increased awareness to how people can get involved in the solution by adopting, and spaying/neutering their pets, donating, volunteering and sharing this message with their friends.
Nils and Amy share their Arizona home with six rescued dogs, four of which are pictured in the Save Them All ad.
About Best Friends Animal Society®
Best Friends Animal Society is the only national animal welfare organization focused exclusively on ending the killing of dogs and cats in America's shelters. An authority and leader in the no-kill movement since its founding in 1984, Best Friends runs the nation's largest no-kill sanctuary for companion animals, as well as life-saving programs in partnership with rescue groups and shelters across the country. Since its founding, Best Friends has helped reduce the number of animals killed in shelters from 17 million per year to about 4 million. Best Friends has the knowledge, technical expertise and on-the-ground network to end the killing and Save Them All®.
To like Best Friends Animal Society on Facebook go to: http://www.facebook.com/bestfriendsanimalsociety.
Follow Best Friends on Twitter: http://twitter.com/bestfriends
###