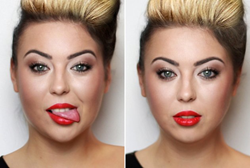 At Becomegorgeous.com, we help women find the information they need to feel beautiful and confident.
(PRWEB) April 09, 2014
Makeup allows women to explore different sides of their personality and reflect different moods. The new makeup tutorial for blue eyes and the Miley Cyrus makeup tutorial from Becomegorgeous.com are two suggestions with very distinct allures. While the makeup tutorial for blue eyes has a romantic allure, being a good choice for the spring season, the makeup look inspired by the pop star is predictably more daring, being a more glamorous alternative.
The Miley Cyrus makeup tutorial from Becomegorgeous.com shows women how to create the singer's memorable "Wrecking Ball" makeup look. From the basics of creating a flawless looking skin to the soft eye makeup look and the bold lips, each of the techniques is clearly revealed in the video tutorial which offers verbal instructions along the way to make every step easier to follow.
To further simplify things, a comprehensive written step by step guide is also included along with a few tips on how to customize the techniques to get the most flattering look. Photos showing the various stages of creating the look also help make things easier.
Finding a balance when it comes to makeup for blue eyes can be a bit difficult as it is quite tempting to use a lot of color to make them stand out, especially for those with blonde hair. The new makeup tutorial for blue eyes from Becomegorgeous.com provides a balanced approach for creating a flattering look with a romantic flair.
The video makeup tutorial illustrates the entire process of creating the romantic eye makeup look. The clear verbal instructions help the process easier to understand and remember. The steps needed to create this beautiful makeup look are also laid out in the article which is clearly divided into sections to make it easier to skim through and get to the desired information faster. Moreover, the article also includes photos for the main stages of creating the eye makeup for blue eyes to make the process as clear as possible.
About us
Becomegorgeous.com was created in 2007 and has become a comprehensive source of information on high interest topics for women of all ages ever since. Its goal is to help women find the tools they need to be able to explore their full potential and become the best version of themselves. It focuses on delivering high quality content on a myriad of subjects ranging from fashion, makeup and beauty care tips to health and fitness, love and relationships, travel and living and entertainment. The growing beauty community allows users to share their thoughts and concerns with like-minded individuals.