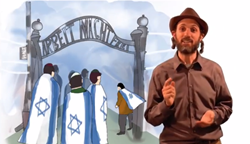 While hardly heartwarming, the idea we discuss at the Seder that in every generation enemies will arise to try to destroy us, is part of what has given the Jews our legendary resilience.
Jerusalem, Israel (PRWEB) April 09, 2014
When author Dave Mason released The Lamp of Darkness in March, the first book of The Age of Prophecy series, he did so with the goal of making the Biblical narrative relevant and meaningful to a new generation of readers. Now Mason has attempted to do the same thing with the Passover story with the release of his video "The Hidden Message in the Seder that will Transform Your Passover!"
"The Passover Haggadah tells us that we need to tell the story of Passover every year so that we can remember how we were miraculously redeemed from slavery to freedom," Mason said. "What it doesn't explicitly state is how telling this story year after year has impacted the Jews, and through them the world, throughout history."
"In many ways, the most depressing part of the Seder has had the most impact, the idea that in every generation enemies will arise wishing to destroy us," Mason continued. "While hardly heartwarming, this message has helped the Jews develop our legendary resilience, because it also tells us that as hard as our oppression gets, we will always somehow manage to prevail. This consciousness has helped us look beyond the immediate challenges we face, and hold onto the big picture."
While the video does not directly touch upon Mason's writing, it draws upon the same body of sources as does his first book, The Lamp of Darkness, released earlier this month. The book, which is the first of The Age of Prophecy series, has been dubbed a "Biblical Harry Potter." The series is deeply rooted in ancient oral and mystical traditions, and uses these to bring key Biblical stories to life.
Learn more about The Age of Prophecy series at http://www.TheAgeofProphecy.com.