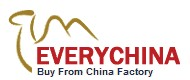 (PRWEB) April 09, 2014
After being used for more than 100 years, incandescent lamps now have various problems, and it would have to quit the stage of history sooner or later. Everychina has recently done marketing research, and said that incandescent lamps will be finally replaced by energy-saving lamps and LED Lights.
According to a spokesman for Everychina.com, incandescent lamps have been used for over 130 years, and now they are out-of-date. The incandescent lamp market has shrunk because of incandescent lamp's low efficiency, high energy consumption, short life time and others. In fact, its alternatives, energy-saving lamps and LED lights, have appeared on the market; many national or regional governments have set bans on incandescent lamps.

Australia is the world's first country which plans to ban the use of traditional incandescent comprehensively. The Australian government regulation was announced in 2009; they will gradually ban the use of traditional incandescent bulbs and replace them with more energy-efficient fluorescent lamps and other energy-saving lamps before 2010.
Canada has banned the sale of incandescent since 2012. Canada is the second country that announced to ban incandescent lamps.
Japan has completely banned the use of incandescent lamps since 2012.
United States: 2007 Energy Independence and Security Act: from January 2012 to January 2014, the United States should phase out 40W, 60W, 75W and 100W incandescent light bulbs which would be replaced by energy saving light bulbs.
China will ban the import and sale of incandescent lamps (60W and above) from this October.
The price of 1W LED lamp is about 10RMB, while 1W energy-saving lamp's is 1 RMB. LED lights were defeated by the energy-saving lamps in price, although the LED lights are more energy efficient and electricity-saving than energy-saving lamps. LED lights's price is much higher than that of energy-saving lamps, which makes its popularity very difficult.
About Everychina.com
Everychina.com is a China products catalog and online supplier community, and it belongs to Beijing Global Trade Software Technology Co., Ltd.
About Beijing Global Trade Software Technology Co., Ltd.
The company was founded in 2009; it is a high-tech e-commerce services company with a focus on providing e-commerce services to SMEs in China. It is famous for its industry-leading e-commerce search technology and global search engine marketing technology. The company has two main products: EveryChina.com and Tradelink (http://www.maoyt.com). The latter provides one-stop e-commerce solutions & services to help SMEs get online inquiries or sell products online.
More details can be found at http://www.everychina.com/.