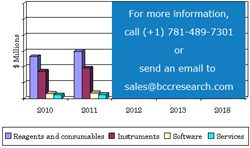 Global Polymerase Chain Reaction (PCR) Market to Reach Nearly $10.2billion in 2018
(PRWEB) April 09, 2014
BCC Research (http://www.bccresearch.com) reveals in its new report, Polymerase Chain Reaction (PCR) Technologies and Global Markets the global market for polymerase chain reaction technologies is expected to grow to nearly $10.2 billion by 2018, with a five-year compound annual growth rate (CAGR) of 8.5%. reagents and consumables is the fastest moving segment in this market with a CAGR of 8.9%.
The major factors driving the PCR products market include continuous technological advancements in instruments, reagents, and PCR techniques such as real-time PCR and reverse transcriptase PCR. This market is being led by the reagents and consumables, the largest and fastest moving segment, which is expected to reach nearly $5.7 billion by 2018.
Instruments, which is witnessing greater adoption by end users, is the the second largest segment and is forecast to grow to nearly $3.6 billion by 2018.
The PCR market is currently dominated by the North American region, which has a market share of about 45%, whereas Europe and Asia together account for 45% of the market.
"Although North America and Europe dominate the PCR products market," says BCC Research biotechnology analyst Jackson Highsmith. "However, Asia is considered a high-growth market for PCR products with a compound annual growth rate (CAGR) of 9% forecast from 2013 to 2018, where the market is still relatively untapped compared to the global market."
Increasing demand for technologies supporting early and accurate diagnosis of life-threatening diseases, such as cancer, is driving the PCR market.
Polymerase Chain Reaction (PCR) Technologies and Global Markets provides an in-depth analysis of the polymerase chain reaction (PCR) market with respect to key market trends, competitive intelligence, and market forecasts. The report presents key decision-making parameters such as new product launches, market strategies, key application areas to support the market estimates, and forecast data. It also provides key analysis and strategic recommendations derived from intensive primary and secondary research.
This report is intended for key decision makers such as CEOs, VPs, AVPs, marketing heads, and research directors of PCR manufacturers, technology providers, software providers, and service providers. The will would also be useful to existing biotech instrumentation players looking to enter high-growth markets.
Editors and reporters who wish to speak with the analyst, should contact Steven Cumming at steven.cumming(at)bccresearch(dot)com.
About BCC Research
BCC Research publishes market research reports that make organizations worldwide more profitable with intelligence that drives smart business decisions. These reports cover today's major industrial and technology sectors, including emerging markets. For more than 40 years we've helped customers identify new market opportunities with accurate and reliable data and insight. These include market sizing, forecasting, industry overviews, and identification of significant trends and key competitors. We partner with analysts who are experts in specific areas of industry and technology. Their up-to-date knowledge gives our customers unbiased measurements and assessments of these vital markets. Because our reports offer a global focus, our customers include the top companies in industries around the world as well as universities, major business schools, start-ups, consulting firms and investment companies. BCC Research is a unit of Eli Research LLC.
Data and analysis extracted from this press release must be accompanied by a statement identifying BCC Research LLC, 49-2 Walnut Park, Wellesley, MA 02481, Telephone: (+1) 781-489-7301; Email: editor(at)bccresearch(dot)com as the source and publisher. Thank you.