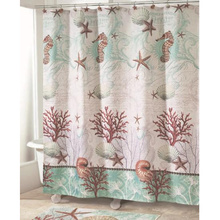 (PRWEB) April 09, 2014
Lightinhome, a professional online store for all kinds of curtains, has recently announced its shower curtain sale; the company is offering big discounts on all its shower curtains. Orders placed before April 30, 2014 will be eligible for the discounted rates.
The designers of Lightinhome are inspired by the great outdoors and the shower curtains are artfully designed to bring a piece of nature into your bathroom. These curtains are featured with elegant looks and high quality materials, and they catch many eyes for the affordable prices. The shower curtains are absolutely gorgeous, and they make bathrooms pop with excitement.
"Our award-winning shower curtains sell well in the global market, and this is the season that we launch such a promotion to acknowledge all clients worldwide and strengthen our relationship with our curtain distributors," said the CEO of the company. "The purchasing process is simple and safe at our website of Lightinhome.com. Please note that the promotion is not valid until for a long time."
Lightinhome thinks that every home is unique. The business offers additional sizes in select designs and colors that provide a special look at an attractive price. The company has the solution to work with any customer's shower stalls, high ceilings and curved tension rods. Moreover, all the items can be delivered worldwide via premium carriers such as DHL, FedEx and UPS.
About Lightinhome.com
Lightinhome.com is one of the world's leading home furnishing retailers; it provides custom curtains and all kinds of curtains at affordable rates. The company's products include vintage floral curtains, country curtains, blackout curtains and more. To find more information about the company, please visit http://www.lightinhome.com/shower-curtains-c-13.html.