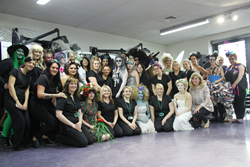 Wakefield (PRWEB UK) 9 April 2014
On April 7th the College held its "Xtravaganza" Avant Garde Hair Show, presented by students on the Level 3 Hair, and Level 3 Media Make-up courses at the Castleford Campus.
For some students, preparation for the show began as far back as November and parents, staff and other students were rewarded with a truly sparkling evening culminating in a catwalk competition.
Entertainment during the judges' deliberations was provided by student Louise Nash, who delighted the audience with a couple of covers of latest hits.
With 17 entries covering a whole host of topics from "18th Century French" by Millie Spargo, to "Mad Hatter" by Sarah Heeley and "Royal Ascot" by Paul Croft Milner. The competition was extremely close, with "Floral" by Grace Brookman scooping the win for her design.
A huge thank you goes to all the students, staff and parents that made the evening a great success.
Full list of entries:
1. Cave woman by Anna Carroll
2. Skeleton by Jenny Barker
3. Sea Chantey by Linsey Turner
4. 1940's War by Gemma Synnott
5. Woodland fairy by Emma Chappell
6. Witch by Heather Davies
7. Eco couture by Louise Nash
8. Indian by Amy Louise Lyth
9. Royal Ascot by Paul Croft Milner
10. Mermaid by Stephen Lunn
11. Floral by Grace Brookman
12. Jungle by Lauren Walters
13. 18th Century French by Millie Spargo
14. Alien by Lucy Bavester
15. Snow Queen by Sarah Wilkinson
16. Corps Bride by Nicola Bolton
17. Mad Hatter by Sarah Heeley