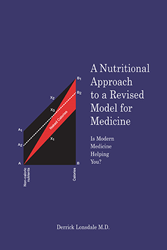 (PRWEB) April 25, 2014
Can a simple change in our diet make all the difference? Are we eating too much sugar? Could the obesity epidemic, diabetes, and a host of other diseases be the result of our present dietary mayhem? Is alternative medicine the answer? These views are proposed in the illuminating book by the longtime physician, who draws attention to the dangers of excessive sugar ingestion that is so widespread today.
The book cites case reports to illustrate these dangers and emphasizes the ease with which symptoms may be stemmed in the early stages. However, if symptoms are left unrecognized and behavior is unmodified, these symptoms become less treatable, giving rise to chronic diseases and serious health problems. This is one house call you won't want to miss!
A NUTRITIONAL APPROACH TO A REVISED MODEL FOR MEDICINE: IS MODERN MEDICINE HELPING YOU? (ISBN: 978-1-61897-092-3) is now available for $13.50 and can be ordered through the publisher's website: http://sbpra.com/DerrickLonsdale or at www(dot)amazon(dot)com or www(dot)barnesandnoble(dot)com.
WHOLESALERS: This book is distributed by Ingram Books and other wholesale distributors. Contact your representative with the ISBN for purchase. Wholesale purchase for retailers, universities, libraries, and other organizations is also available through the publisher; please email bookorder(at)aeg-online-store(dot)com.
About the Author: Derrick Lonsdale, M.D., was born in Lancashire, England, and earned an MB.BS. at London University. He worked in medical practice for 64 years, retiring at the age of 88. Dr. Lonsdale is a Fellow of the American College for Advancement in Medicine (ACAM), an international professional organization that represents the alternative medicine field. He has written two previous books on alternative medicine and published over 100 medical papers.
Strategic Book Publishing and Rights Co, LLC