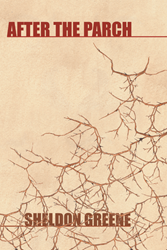 Sheldon Greene has been called "a born storyteller" by the Los Angeles Times. About his new book he says, "I felt the need to describe our country as what it might become if we continue on the current trajectory."
(PRWEB) April 11, 2014
It falls upon Bran, an 18-year-old shepherd, to try and keep his rural community from losing its land. His mission gives him a short time to traverse the new republic; he teams up with a runaway girl, a boy with uncanny skills, and a musician with a secret agenda.This vivid fantasy has a well crafted narrative that flows naturally, and keeps the reader hooked right up to the last page. Along the way, readers will learn something about loyalty, friendship, and trust.
Here's a sample: "The spear-straight firs that had once covered the gentle slope and obscured the view of Templeton are now just a memory recalled by a cemetery of bleached and rotten stumps. Templeton is as Bran has always known it; green, slope-roofed, homely buildings, baled like recycled newspapers by its sixteen-foot-high double barbed-wire fence."
Contact the publisher for a review copy.
AFTER THE PARCH (ISBN: 978-1-62857-453-1) is now available for $14.95 and can be ordered through the publisher's website:
http://sbprabooks.com/SheldonGreene or at www(dot)amazon(dot)com or www(dot)barnesandnoble(dot)com.
WHOLESALERS: This book is distributed by Ingram Books and other wholesale distributors. Contact your representative with the ISBN for purchase. Wholesale purchase for retailers, universities, libraries, and other organizations is also available through the publisher; please email bookorder(at)aeg-online-store(dot)com. e-Books will be available soon
About the Author:
Sheldon Greene is a critically acclaimed novelist who has been called "a born storyteller" by the Los Angeles Times for his book "Lost and Found" (Random House); "immensely entertaining" by Dallas Morning News. This is his fifth novel. He is a lawyer, an executive in a wind energy development company, and has a background of high impact public interest litigation.
Author's website: http://www.sheldongreene.net
Strategic Book Publishing and Rights Co, LLC